ShortBookandScribes #BlogBlitz #Recipe from The Adventures of Isabelle Necessary by Martii Maclean @MacleanMartii @rararesources
Welcome to my post as part of the blog blitz for The Adventures of Isabelle Necessary by Martii Maclean. I'm so pleased to be able to share a recipe from the book with you today and would like to thank Rachel Gilbey of Rachel's Random Resources for the place on the blitz.

One gutsy eleven-year-old, a cool beach town, a hilarious crew of friends and oodles of adventures.

Once upon a beach, there was a girl called Isabelle Necessary. A girl with an unusual name and a rather extraordinary life. She roams around a sleepy beach town with her loyal team of friends.  Follow Isabelle, Tammy, David, Nin, Draino the cat and Champ the wonder dog as they navigate one sticky situation after another and figure out how to turn a frog into a movie star, deal with a never-ending milkshake and escape being trapped in a lighthouse.

The type of book that brings back childhood memories and captures the essence of being a free-spirited kid.

Perfect for teachers and educators as the book comes with a teacher's resource guide and student maker kit by Isabelle Necessary herself. Middle-grade reading level.
Purchase Links
---
The Adventures of Isabelle Necessary is filled with tales of Isabelle's amazing adventures and creations. Below is a recipe inspired by chapter eleven, "Isabelle Necessary Helps out at Halfway Percy's Shop."
For more recipes and craft activities inspired by the book, get your copy of The How to do Fun Stuff Book, a free guide written by Isabelle Necessary herself that accompanies the book.  It can be downloaded from the author website here.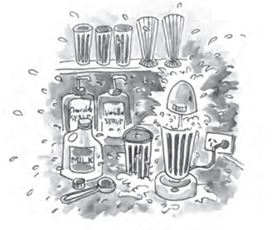 ~Milkshake Recipe~
(Without a milkshake machine)
Equipment:
one big jar or plastic shaker with a lid
thick-shake straws
Ingredients:
1 cup of milk (soy milk and other milks make a delicious milkshake too)
1 scoop of vanilla ice-cream
1 big squirt of your favourite flavour of syrup/topping
Method:
put everything in the shaker/jar
do the lid up tight
start doing your 'shaky-shaky-milkshake' dance and don't stop until everything is mixed together and there are bubbles on top of the mixture.
poor the milkshake into a glass and slurp it through a thick, milkshake straw (this makes extra slurp-ful noises)
That sounds great, thank you Martii!
---

Martii Maclean lives in a tin shack by the sea, catching sea-gulls which she uses to make delicious pies, and writing weird stories. She likes going for long bicycle rides with her cat, who always wears aviator goggles to stop her whiskers blowing up into her eyes as they speed down to the beach to search for mermaid eggs. Or how about this…
Martii Maclean writes fantastical, adventurous tales for children and teens and sometimes adults. She was born in Sydney, Australia and now lives in Brisbane with her husband Trevor and her cat Minerva. Her work as an educator and librarian, allows her to share her love of stories and of story-telling with many young people. This inspires Martii to create thought-filled stories that explore the wonderful world of 'what if'. Find out more about Martii and her stories at www.martiimaclean.com
Social Media Links –