ShortBookandScribes #BlogBlitz #Recipe from Spices and Seasons, Simple Sustainable Indian Flavors by Rinku Bhattacharya @Wchestermasala @rararesources
Something a little different from me today. I'm sharing a recipe for fluffy naan bread as part of the one day blog blitz for Spices and Seasons by Rinku Bhattacharya so if you're a fan of Indian food then this is one for you. My thanks to Rinku for providing the recipe and to Rachel Gilbey from Rachel's Random Resources for the place on the blitz.

---
Rinku Bhattacharya combines her two great loves―Indian cooking and sustainable living―to give readers a simple, accessible way to cook seasonally, locally, and flavorfully. Inspired by the bounty of local produce, mostly from her own backyard, Rinku set out to create recipes for busy, time-strapped home cooks who want to blend Indian flavors into nutritious family meals. Arranged in chapters from appetizers through desserts, the cookbook includes everything from small bites, soups, seafood, meat and poultry, and vegetables, to condiments, breads, and sweets. You'll find recipes for tempting fare like "Mango and Goat Cheese Mini Crisps," "Roasted Red Pepper Chutney," "Crisped Okra with Dry Spice Rub," "Smoky Roasted Eggplant and Tomato Puree," and "Red Harvest Masala Cornish Hens," to name a few. As exotic and enticing as these recipes sound, the ingredients are easily found and the instructions are simple. Rinku encourages readers to explore the bounty of their local farms and markets, and embrace the rich flavors of India to cook food that is nutritious, healthy, seasonal and most importantly, delicious.
Purchase Links.
---
Fluffy Plain Naan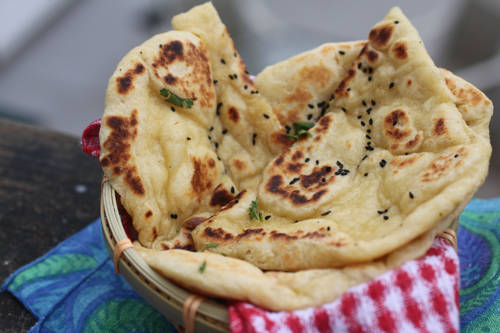 It is hard to go wrong with a good naan bread that combines the comfort of fresh baked bread with In­dian flavors. Though difficult to replicate the effect of the tandoor or traditional clay oven in which naan is typically cooked, this recipe gets you close with the pizza stone. You can also try using a cast-iron skillet as I have done for the tomato rosemary naan on page 307.
Prep Time: 15 minutes plus 75 minutes for the naan to rise | Cook Time: 25 minutes | Makes: 6
Ingredients
½ cup whole milk
1 teaspoon sugar
1½ tablespoons rapid rise yeast
4 cups all-purpose flour
4 tablespoons oil
2 teaspoons salt
½ cup plain whole-milk yogurt
2 eggs
Pizza stone
Preparation
Warm the milk slightly and stir in the sugar and yeast. Set aside for 5 minutes, until the yeast begins to get all frothy.
Place the flour in a mixing bowl and add the oil, salt, yogurt, and eggs.
Pour the milk mixture over the flour and mix the ingredients to form a soft, smooth dough, adding a little water if needed. Cover loosely and set aside in a warm place until the dough rises and has doubled, usually about 1 hour.
Punch down the dough and let it rise for another 15 minutes.
Pre-heat the oven to 475ºF and place a pizza stone in the center of the oven and heat for at least 30 minutes.
Break the dough into 6 lemon-size balls and roll each to an oval of about 5 to 6 inches in length and about ½ inch in thickness. (You can use extra flour for rolling, but shake off the flour after rolling.)
Place one of the naan breads on the hot pizza stone and cook for a couple of minutes, it should puff a little at spots. Quickly turn on the other side and cook for a couple of more minutes, the bread should be puffy and well browned and even lightly charred at spots. Repeat with remaining dough disks.
If desired, drizzle with a little butter before serving.
Tips and Tricks
Naan bread can also be stuffed with some chopped chicken tikka or mashed potatoes and then rolled out and baked.
Mmm, that looks and sounds yummy.
---

Rinku Bhattacharya (spicechronicles.com) was born in India, and now lives in a house with a vibrant backyard in Hudson Valley, New York with her husband, an avid gardener, and their two children. Rinku's simple, sustainable approach to Indian cooking is showcased on her blog, Spice Chronicles, and in her Journal News column "Spices and Seasons."
Rinku has been teaching recreational cooking classes for the past nine years, and works extensively with local area farmer's markets on seasonal demonstrations and discussions. Rinku is also the author of The Bengali Five Spice Chronicles (Hippocrene Books, 2012), winner of the Gourmand World Cookbook Awards 2013 for Best Indian Cuisine. She writes for the Poughkeepsie Journal, the Journal News, and several online sites, and is a frequent guest on CT Style TV.