ShortBookandScribes #BlogBlitz #GuestPost by Laura Briggs, Author of A Wedding in Cornwall (Books 7—12) @PaperDollWrites @rararesources
I'm delighted to be sharing a guest post by Laura Briggs today as part of the blog blitz for A Wedding in Cornwall. This is an anthology of books 7-12 in the series and I really must get around to reading them all as they sound so lovely!
The last six novellas in the UK bestselling series A WEDDING IN CORNWALL are now available in one collection! Join American event planner Julianne in her final set of adventures 'across the pond' in beautiful Cornwall. From celebrity sightings to a local talent show, from a charming village fete to a secret Cornish garden, there's never a dull moment for Julianne and her Poldark-esque true love Matthew in the quaint village of Ceffylgwyn.

This collection contains A Romance in Cornwall, A Star in Cornwall, A Sewing Circle in Cornwall, A Talent Show in Cornwall, An American in Cornwall, and A Garden in Cornwall. Exclusive bonus materials include a sneak peek of the author's all-new 2019 Cornish romance series!
---
What Readers Say They Enjoy About My Books by Laura Briggs
Let me say a huge thank you to Nicola for letting me share about my books with her lovely readers at Short Book and Scribes today!
My pleasure, Laura!
It's so lovely to tell you about the anniversary for my series A WEDDING IN CORNWALL. I wrote the first novella two years ago in what turned out to be a series of twelve. The idea for the story of an event planner working at a Cornish manor house sprang from two sources: my love for wedding-themed romances and the utterly breathtaking landscape of Cornwall—which I sadly still haven't witnessed firsthand, so I know it only through the beauty of internet and television.
The readers for my stories have amazed me with their support and enthusiasm. Their feedback was the driving force of the series and the reason each volume became a best-seller in its own time. I wanted to share 3 things about the series its readers say have made them longtime fans:
The Setting: Being American, and having never visited the county of Cornwall, I knew my depiction of even a fictional Cornish village might turn some readers away if its inaccuracies were too much to suspend their disbelief. But there have been so many now who expressed a deep appreciation for the descriptions of the county's unique landscape. It's wonderful to hear my writing has captured even a tiny bit of the essence of such a beautiful place for those who know and love it—one reader even said it made them home sick!
The Characters: Writing about the same characters for 12 books wasn't always easy. And with the introduction of each new face to the sleepy little village, I worried readers might not take to a new addition. But—as it turned out—each character was received with enthusiasm. Some reviewers have even commented that reading about the residents of Cliffs House and Ceffylgwyn is much like spending time with old friends! As an author, you can't ask for much better than that when it comes to readers enjoying the world you've created.
The Humor: I wanted these stories to have a feel-good factor, and even though a few serious issues are touched on here and there, it is largely meant to be escapist reading. So I'm very happy anytime someone comments that a story has made them laugh out loud, or that it's their idea of perfect holiday reading or a great choice for relaxing with in the garden.
If you enjoy tales with these elements, I very much hope you will check this series out. And you might also enjoy my newest release, the first book in a wedding-themed series with UK publisher Bookouture. Titled ONE DAY LIKE THIS, it has a lighthearted style and a dash of Southern charm. You can find it on Amazon right here.
Thank you, Laura. I can understand why your books are so popular.
---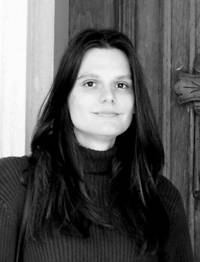 Laura Briggs is the author of several lighthearted romance novels and novellas, including the bestselling Amazon UK series A Wedding in Cornwall. She has a fondness for vintage-style dresses (especially ones with polka dots), and reads everything from Jane Austen to modern day mysteries. When she's not writing, she enjoys spending time with family, caring for her pets, going to movies and plays, and trying new restaurants.