#blogtour – You, Me and Us by Liam Hurley @LjHurleyWriter @rararesources #GuestPost #giveaway
Well, this book blogger is in the naughty corner today. This post should have been here for you to read yesterday but due to a mix up on my part it's a day late. My sincere apologies to the author and to Rachel Gilbey.
Anyway, better late than never, I'm very pleased today to be taking part in the blog tour for You, Me and Us by Liam Hurley. Thank you to Rachel from Rachel's Random Resources for asking me to be part of it. Liam has very kindly written a guest post about heartbreak in film and literature and there's a chance to win a copy of the book but first, let's see what the book is about:

"F*** you for breaking my f***ing heart…"

This is the heart-breaking yet hilarious story of Jimmy Rowland and Erin Poppet.

Jimmy Rowland has the perfect life. He works in his favourite bar by day, and by night he lives his dream with his two best friends in his band.

Erin Poppet crashes into Jimmy's life like a beautiful storm. He falls in love with her as quickly and as deeply as possible. The intensity of their relationship leaves Jimmy with a broken heart, a useless vacuum and a demon inside him.

Jimmy's dream life quickly becomes a nightmare when he loses his dream job and destroys his musical career live on stage.

When he hits rock bottom, he decides he only has one choice, to rebuild his life from scratch. He has to get back the life he had before Erin.

This is her story. This is his story. This is their story.

Or as Jimmy would say…

"… this is the story of You, Me and Us."
Like the sound of it? Then why not purchase it now from Amazon?
---

I am in the business of heartbreak. I truly believe that a good healthy dose of heartbreak can be the making of someone. As a writer it's one of the areas I love to explore. When our hearts are broken we are at our rawest most brutal form. We are split open to our core and find out what we are made of.
So today, for your reading pleasure, I would like to present to you four of the most heart-breaking moments to be featured on the big screen, in literature and on television.
Please be warned, spoilers lie ahead.

Tim professes his love for Dawn- The Office (UK)
If you have only ever seen the American version of The Office you are doing yourself a great injustice. As brilliant as the US show is, it is the lighter, easier but ultimately less nuanced cousin of its British counterpart. Tim (Martin Freeman) harbours a deep love for Dawn (Lucy Davis). He stares across the office at her for two seasons. He snatches moments of time with her when her fiancé is absent and seems to live for them. Dawn also seems to have feelings in return but never acts on them. As the second season draws to a conclusion Dawn plans to move to America to start a new life. As Tim is in the midst of a talking head interview he decides to make one last play for Dawn. This is his Hollywood moment, his run to the airport. He storms from the room, and takes Dawn into a separate room. He then removes his microphone (as someone would who was being filmed in this moment… take a lesson here America) so the audience cannot hear what is being said. Words are exchanged. They hug. Dawn leaves the room and Tim returns to his desk. He puts his microphone back on, looks into the camera and simply says "she said no by the way." Dawn then leaves to create her new life across the Atlantic. Heart-breaking, brutal, perfect.
Emma dies- One Day
David Nicholl's fantastic novel focuses on one day in the year for each year of Emma and Dexter's twenty-year relationship. We fight for them to get together from the first time they meet in the glorious moonlight of Edinburgh. We see them fall apart and come back together. Emma finds success in writing and Dexter suffers the loss of his career and his mother. Eventually, finally they get together. They get married and everything is going swimmingly. And then Emma dies. What? She? Yep. She dies in a bike accident leaving Dexter a broken shell of the new man he'd became. A truly shocking heartbreak for all of us.
The door- Titanic
Jack could've got on that door too. Damn you James Cameron. Screw your buoyancy theory.
Karen gets the Joni Mitchell CD- Love Actually
Love Actually is a classic Christmas film. A feel-good romance from the brilliant mind of Richard Curtis. However, hidden amongst the happy endings for Hugh Grant, Colin Firth and Liam Neeson is the heart-breaking story of Karen (Emma Thompson) and Harry (Alan Rickman). Karen and Harry are in a comfortable marriage. Harry becomes attracted to Mia (Heike Makatsch) from his office and begins to pursue her with earnest. He purchases a very expensive necklace as a Christmas present for her and hides it away. Karen finds the necklace and assumed it's for herself, and even has a small dance of celebration. On Christmas Eve it is suggested that each person in the family can open one present (a strange tradition), and Karen goes for the present shaped very much like a necklace box. She unwraps it with gusto to discover a Joni Mitchell CD. Her reaction is soul-crushing for the viewer. In one moment excitement turns to misery as Karen realises not only is the necklace not for her, it is clearly for someone else. Someone else Harry must clearly have feelings for. She puts on a brave face for their children and ushers them to bed, all whilst her heart is breaking. And ours are too. Alan Rickman. I'm glad Mia didn't get with him.
There we have it. Four brutal heartbreaks. Why not go back and relive a few? Did I miss your favourite heart-breaking moment? Let me know!
And remember heart break is a very natural thing. The fact it happens simply shows we are human. As Oscar Wilde said, "the heart was made to be broken.
Fab guest post, thank you Liam. That moment in Love, Actually gets me every time. And yes, I agree, Jack could definitely have got on that door!
---

---
Please do follow the rest of the tour. I'm sure the other bloggers taking part will manage to post on the correct day!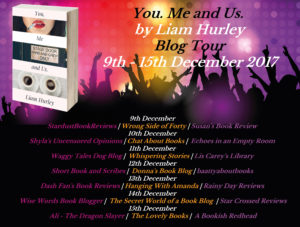 ---

My name is Liam; I am an author from Manchester, UK. I love three things in this world, writing, reading and the viral video of the Irish family trying to catch a bat. (My girlfriend, family, friends and cats may be unhappy with this).
My hobbies include listening to podcasts, watching grown men fight and trying every possible type of ground coffee in the world.
Here are my Top Ten reasons to read my book or spend the night with me…
It won't cost you much.
2. It will be over relatively quickly.
3. I will be very grateful.
4. You can tell other people about it if you enjoyed it.
5. If not, don't bother.
6. It's always fun to have something in your hands to flick through.
7. You can review it online.
8. It will leave a mark on you.
9. You won't want to put it down.
10. It'll make you laugh.