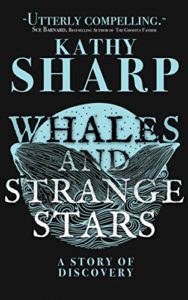 #blogtour – Whales and Strange Stars by Kathy Sharp @KathySharp19 @BrookCottageBks #GuestPost
I'm delighted to be taking part in the blog tour today for Whales and Strange Stars by Kathy Sharp. Thank you to Brook Cottage Books for allowing me to take part. I have a lovely guest post from Kathy about a sense of place in her writing but first let's find out what the book is about.

Series: First book in the Wych Ferry Series

Genre: historical fiction

Release Date: 12th December, 2017

Publisher: Crooked Cat Books

A world beyond her own.

A sea captain passes through the forgotten port of Wych Ferry, and whiles away an hour relating his traveller's tales to young Rosamund Euden. He tells her that the stars are different, if you sail far enough, that the horizon isn't quite real, not when you get there; he speaks of sea serpents and whales, and mysterious islands.

To an impressionable girl who has never left her home, the whales and strange stars of his stories come to symbolise the great outside world she longs to see. The sea captain moves on, unaware of the dramatic events he has set in action as Rosamund's search for adventure leads her into a world of dangerous secrets in the marshlands of eighteenth century Kent.

Torn between loyalty to her uncles, and her desire to discover what lies beyond the marshes, Rosamund seeks help from an unexpected source. But who can she really trust?
BUY LINKS
Amazon UK: http://amzn.to/2CqGR6v
Amazon US: http://amzn.to/2CucLhr
---

A Sense of Place by Kathy Sharp
It's nothing unusual for me to be inspired to write by a place. I do it all the time. But the place that inspired Whales and Strange Stars has been waiting a very long time – half a century, in fact – for me to write the book it deserves.
In the book I call it Wych Ferry, but the real place is called Grove Ferry. It is still there, of course, changed to some degree over time, as you would expect, but essentially the same, still the quiet, beautiful mooring for small boats that I knew so well all those years ago. Many of the trees I loved are gone – but some still stand, a little more gnarled; buildings I knew have been demolished and some replaced. But there is much that I easily recognise when I visit these days, including and especially, the soupy green old river that I used to row a little boat on, whose native birds and flowers were so familiar to me. It all coloured and flavoured the story.
And so did my other happy experiences with boats on that river. When I send the fictional Belle Isle floating downriver propelled by nothing but the ebbng tide, I know it can work because I've done it myself. We often let our little cruisers float downstream like that – it was the most peaceful and natural way to travel and to learn the moods and movement of the river.
Although I have set the story in the eighteenth century (I can't actually remember back that far!), much of it is created from my memories. Not so much the detail, to be honest – after all, I'm recalling the 1960s –  as the general feeling of life in such a sleepy riverside place, where nature and the changing seasons hold so much sway, where time can pass so surprisingly slowly.
The story of Whales and Strange Stars contains adventure and excitement and danger (all figments of my imagination), but at its heart it's a tale of the riverbank, a dreamy reminiscence of times long past and much longed-for in the present. I can only hope I've done them justice.
Thank you, Kathy. I'm sure you've done a wonderful job.
---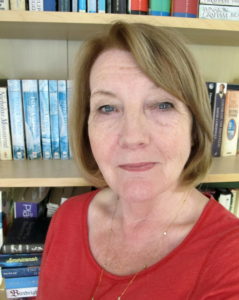 Kathy Sharp was born and brought up by the sea in Kent. Life took her inland, and she worked for many years as a desktop publisher for Surrey County Council, and as a tutor in adult education.
And then, one day, she visited a friend who had just moved to the Isle of Portland, Dorset, and fell in love with the place. She has now lived by the sea in the Weymouth and Portland area for more than ten years, and still loves it. The wonderful Jurassic Coast, and Portland in particular, were the inspiration for her Larus Trilogy of novels.
Kathy also sings with, and writes lyrics for, the Island Voices Choir on Portland, and is a keen member of local writing groups, as well as enjoying studying the local flora.