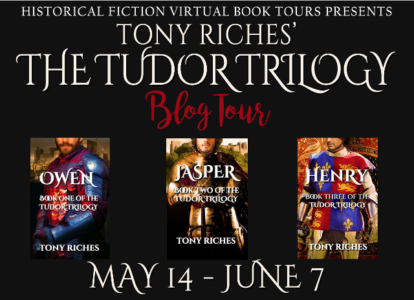 #BlogTour – The Tudor Trilogy by Tony Riches @TonyRiches @hfvbt #GuestPost #Giveaway #historicalfiction
Welcome to my stop on the blog tour for The Tudor Trilogy by Tony Riches. I'd like to thank Amy Bruno from Historical Fiction Virtual Book Tours for the place on the tour and the author for the great guest post that's further down this post. There's also a fabulous giveaway to win an ebook and paperback of each book.
First of all though, here's what each book in the trilogy is about:
OWEN (THE TUDOR TRILOGY #1)
BY TONY RICHES

Publication Date: July 26, 2015
Preseli Press
eBook & Paperback; 318 Pages

Genre: Historical Fiction

Based on the true story of a forgotten hero, OWEN is the epic tale of one young man's incredible courage and resilience as he changes the course of English history.

England 1422: Owen Tudor, a Welsh servant, waits in Windsor Castle to meet his new mistress, the beautiful and lonely Queen Catherine of Valois, widow of the warrior king, Henry V. Her infant son is crowned King of England and France, and while the country simmers on the brink of civil war, Owen becomes her protector.

They fall in love, risking Owen's life and Queen Catherine's reputation—but how do they found the dynasty which changes British history – the Tudors?

This is the first historical novel to fully explore the amazing life of Owen Tudor, grandfather of King Henry VII and the great-grandfather of King Henry VIII. Set against a background of the conflict between the Houses of Lancaster and York, which develops into what have become known as the Wars of the Roses, Owen's story deserves to be told.

Owen – Book One of the Tudor Trilogy is a new addition to story of the Tudors in the historical fiction tradition of C J Sansom, Conn Iggulden, Philippa Gregory and Hilary Mantel.
JASPER (THE TUDOR TRILOGY #2)
BY TONY RICHES

Publication Date: March 22, 2016
Preseli Press
eBook & Paperback; 360 Pages

Genre: Historical Fiction

Following the best-selling historical fiction novel OWEN – Book One of The Tudor Trilogy, this is the story, based on actual events, of Owen's son Jasper Tudor, who changes the history of England forever.

England 1461: The young King Edward of York has taken the country by force from King Henry VI of Lancaster. Sir Jasper Tudor, Earl of Pembroke, flees the massacre of his Welsh army at the Battle of Mortimer's Cross and plans a rebellion to return his half-brother King Henry to the throne.

When King Henry is imprisoned by Edward in the Tower of London and murdered, Jasper escapes to Brittany with his young nephew, Henry Tudor. Then after the sudden death of King Edward and the mysterious disappearance of his sons, a new king, Edward's brother Richard III takes the English Throne. With nothing but his wits and charm, Jasper sees his chance to make young Henry Tudor king with a daring and reckless invasion of England.

Set in the often brutal world of fifteenth century England, Wales, Scotland, France, Burgundy and Brittany, during the Wars of the Roses, this fast-paced story is one of courage and adventure, love and belief in the destiny of the Tudors.
HENRY (THE TUDOR TRILOGY #3)
BY TONY RICHES

Publication Date: May 17, 2017
Preseli Press
eBook & Paperback; 320 Pages

Genre: Historical Fiction

Finalist for the Amazon Storyteller Award 2017

Bosworth 1485: After victory against King Richard III, Henry Tudor becomes King of England. Rebels and pretenders plot to seize his throne. The barons resent his plans to curb their power and he wonders who he can trust. He hopes to unite Lancaster and York through marriage to the beautiful Elizabeth of York.

With help from his mother, Lady Margaret Beaufort, he learns to keep a fragile peace. He chooses a Spanish Princess, Catherine of Aragon, as a wife for his son Prince Arthur. His daughters will marry the King of Scotland and the son of the Emperor of Rome. It seems his prayers are answered, then disaster strikes and Henry must ensure the future of the Tudors.

"A fine end to a superbly researched and well-written trilogy, one I would recommend to anyone with an interest in this period of history." Best-selling author Terry Tyler

"Henry was a hazy, cold impression in my mind, but Tony Riches fills him out, gives him intelligence, compassion, human frailty, and a consuming love of country, and I ended the book with great admiration for this man." Author Noelle Granger
---
My Journey from Novice Writer to Best Selling Full Time Author, by Tony Riches
Like many writers, I began with articles for magazines. There were mostly business and professional but I couldn't afford to give up my day job. Eventually I became a regular book reviewer for Computer Weekly and was inspired to write a book myself. In January 2012 I self-published Agile Project Management for Busy Managers as an ebook and was amazed to see it reach the top ten – in the Amazon US Project Management category.
I read a lot of historical fiction and decided to build on my unexpected success with Queen Sacrifice, where every move in a famous game of chess provides the narrative of a medieval drama set in 10th century Wales, with kings and queens, bishops, knights and castles – and sixteen 'pawns' each with their own back story. It sold well enough for a first novel – but most importantly I learnt a huge amount about the novel writing process through taking part in NaNoWriMo (National Novel Writing Month) where you hope to write 50,000 words in thirty days.
After two more novels I felt ready to tackle a long standing ambition, writing the Tudor Trilogy.  For most writers, completing one book would seem more than enough of an achievement, so why would anyone make a commitment to writing three?  I was reading Conn Iggulden's impressive Wars of the Roses trilogy, when the answer occurred to me.
There are real benefits of tackling any story as a trilogy, and now I've written one I'm convinced it's something any novelist should consider. For me, the greatest benefit is synergy, which Cambridge English Dictionary defines as 'the ​combined ​power of a ​group of things when they are ​working together that is ​greater than the ​total ​power ​achieved by each ​working ​separately.'
Put simply, the scope of a trilogy offers writers a liberating sense of space and freedom, as ideas hinted at in the first book can be developed and explored over the rest. This means the writer has space to explore the complexity of relationships that evolve over time, as well as the shifting social, political and economic context over years – or even generations, offering readers a more 'immersive' experience.
There are also practical and commercial considerations. If you follow the fashion for longer books, you have one opportunity to sell it and the promotion can only begin once it's available for pre-order. I was able to promote book one of my Tudor trilogy while writing book two (and it became a best-seller in the UK, US and Australia).  Readers began contacting me to ask when the next book in the trilogy would be available and I soon built an international reader base for the trilogy.
Similarly, although each book works as a 'stand-alone', I've seen evidence in my sales that people reading them in the wrong order tend to buy the others. I also hadn't realised Amazon (and other retailers) are happy to promote and market a trilogy (or any series) as a discounted single purchase, which is good value for readers and means your books are more likely to be 'discovered'.
Finally, a trilogy offers a framework for developing work on an 'epic' scale. In my case, I realised there were countless novels about the court of King Henry VIII and his six wives, yet I could find almost nothing about the early Tudors who founded the dynasty. The idea for The Tudor Trilogy was that King Henry VIII's father could be born in book one, 'come of age' in book two, and rule England in book three, so there would be plenty of scope to explore his life and times.
The first book of the trilogy was my fourth novel, so I had a good idea about the structure. In book one, OWEN, a Welsh servant of Queen Catherine of Valois, the lonely widow of King Henry V, falls in love with her and they marry in secret. Their eldest son Edmund Tudor marries the thirteen-year-old heiress Lady Margaret Beaufort, and fathers a child with her to secure her inheritance. The birth of her son, Henry, nearly kills her, and when her husband dies mysteriously, his younger brother Jasper Tudor swears to protect them.
In book two, JASPER, they flee to exile in Brittany and plan to one day return and make Henry King of England. King Richard III has taken the throne and has a powerful army of thousands – while Jasper and Henry have nothing. Even the clothes they wear are paid for by the Duke of Brittany. So how can they possibly invade England and defeat King Richard at the Battle of Bosworth?
In the final book of the trilogy, HENRY, I explore how he brought peace to England by marrying Elizabeth of York, the beautiful daughter of his enemy, King Edward IV. The Tudor trilogy offers me the scope and depth to help readers understand how Henry's second son became King Henry VIII, the tyrant who transformed the history of England forever.
Thank you, Tony. Your books sound like great reads and I'm glad you are enjoying success with your trilogy.
---

During the Blog Tour we will be giving away an eBook & Signed Paperback of each book! To enter, please enter via the Gleam form below.
Giveaway Rules
– Giveaway ends at 11:59pm EST on June 7th. You must be 18 or older to enter.
– Giveaway is open INTERNATIONALLY.
– Only one entry per household.
– All giveaway entrants agree to be honest and not cheat the systems; any suspect of fraud is decided upon by blog/site owner and the sponsor, and entrants may be disqualified at our discretion.
– Winner has 48 hours to claim prize or new winner is chosen.
Embed Code: Tudor Trilogy

---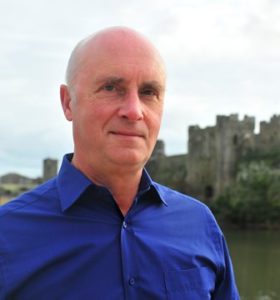 Tony Riches is a full-time writer and lives with his wife in Pembrokeshire, West Wales. After several successful non-fiction books, Tony turned to novel writing and wrote 'Queen Sacrifice', set in 10th century Wales, followed by 'The Shell', a thriller set in present day Kenya. A specialist in the history of the early Tudors, he is best known for his Tudor Trilogy. Tony's other international best sellers include 'Warwick ~ The Man Behind the Wars of the Roses' and 'The Secret Diary of Eleanor Cobham'.
For more information please visit Tony's website and his blog The Writing Desk. He can also be found on Facebook, Twitter, and Goodreads.