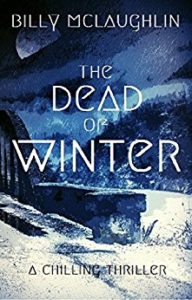 #blogtour – The Dead of Winter by Billy McLaughlin @bilbob20 @emmamitchellfpr #guestpost #bookreview
I'm so pleased to be on the Dead of Winter blog tour today. First of all, here's what it's all about.
One missing baby! One runaway teenager! Coincidence?

Detective Kevin Wallace doesn't think so. And neither do the residents of Golf Road, who are all too quick to point the finger at a man with severe learning disabilities. As Wallace and a colleague, who has already experienced the ugly nature of this particular community, get closer to the truth they may not like what is hidden behind closed doors.

This is a brand new mystery from the writer of 'Lost Girl' and 'In the Wake of Death'. Let the chills commence.
Author Spotlight
The Author Spotlight is a snap shot look at the author's life AWAY from writing.
One of the things that I write about in my books is the dynamics within the family unit. This is something that is intriguing to me. I come from a massive family who I am very close with. I always hear from other people how strange they find it and how we're quite unique because of that. I didn't know that it was strange. I thought everybody was like us. I am always trying to work out where I fit in. Who am I like? Whose mannerisms do I most emulate? Who do I have the most in common with? Growing up, I found my mother's stories about her childhood fascinating. She had 7 brothers and sisters. I had 2. Our life seemed dull by comparison. My mother is no longer with us, but I love to hear my aunts and uncles talk about these things and remembering the things that were told to me as a kid. Sometimes I'll check in with them and say "You know, years ago, my mum said… Do you remember it?" It's nice when I give them something and they say "Oh you know more about that than I did."
What a lovely little vignette, thank you Billy.
---
My Review
The Dead of Winter is a crime novella, so it's a short read, but it certainly packs plenty in. Golf Road (an interesting name for a road) is the home of several families whose lives are turned upside down when, all in one night, a teenager and a baby boy go missing.
What we get to see as we read this book is how the events of that night affect those involved and those on the sidelines. The chapters are nice and short so I was often able to keep reading when one of them left me hanging. The plotting is tight and there were lots of twists and turns. I truly didn't know how it would all end and the end sequences were a bit of a surprise. There were some interesting characters although a couple of the ones I found most interesting were the ones that weren't quite as prominent.
It's a hard-hitting story which deals with more than one controversial issue within its pages.
Thank you to the author and Emma Mitchell of EDM Editorial & Publicity Services for the review copy and the spot on the blog tour.
---
If you fancy reading The Dead of Winter yourself then you can get it here from 13th March:
And you can check out the rest of the stops on the blog tour too for more guest posts and reviews.
---
About the author:
Billy McLaughlin is a Glasgow born author who released his first novelette 'Invisible' in March 2016. Receiving glowing customer reviews, he followed up with the gritty novel 'Lost Girl' which introduces readers to the mainstay characters Phil & Kate. In September 2016, his third book 'In the Wake of Death' was released, re-uniting audiences with Phil & Kate as well as throwing a brand new mystery that has been praised for its unique twist.
McLaughlin welcomed 2017 in celebrating that 'Lost Girl' peaked at number 2 in the crime thriller charts the previous August and gained the coveted number 1 slot in the Scottish crime charts with 'In the Wake of Death'. His fourth book is released on 13 March 2017. 'The Dead of Winter' will appear to be a stand-alone mystery, but introduces a brand new character that is already set to make a splash in the 3rd DI Phil Morris mystery 'The Daughter' which is due in summer 2017.
Keep your eyes peeled for more news at the following social media platforms;
www.facebook.com/billymclaughlinbooks 
www.twitter.com/@bilbob20
You can also contact Mr McLaughlin directly at billymclaughlinbooks@gmail.com