#blogtour – The Cold Room by Karen Long @KarenLongWriter @BrookCottagebks #Q&A #giveaway
After being part of the Cover Reveal for this book last week, I'm so pleased to be posting as part of the blog tour. I have a fab Q&A with Karen Long herself, but first of all here's a reminder of what the book is about.

Publication Date: 8th May 2017

Series: Eleanor Raven – Book 3

Genre: Crime / Thriller

The brand new thriller that will keep you on the edge of your seat from the author of The Safe Word and The Vault.

Winter is settling on Toronto and a series of seemingly unconnected murders are weighing heavily on DI Eleanor Raven. When an army veteran holds his family hostage, leaving chaos and an unidentifiable skeletal human hand in his wake, Raven is left tangled in a web of leads, lies and secrets, with each thread leading her closer to the all too terrifying truth.

But with time running out, Raven needs to re-connect with her past life – the one she thought she'd finally escaped from – if she's to find out who the killer is before they strike again . . .

The Cold Room is the third book in a series featuring DI Eleanor Raven, The Safe Word and The Vault being books one and two. Did you always know it was going to be a series and how far do you anticipate it going?
I had always imagined there being a series and wanted the initial run to be a trilogy. It's taken me four years to write the books and it's been a fabulous experience but I'm now enjoying the challenge of writing a 'stand-alone' novel, set in the UK. That's not to say that I don't miss the characters and world and I will definitely be planning book four in the near future.
Why did you choose to set your book in Toronto and not the UK? How important is the setting for you?
I was staying in Toronto when I read an article in a local paper about a 'Red Letter' sexy kidnapping, that went wrong when local residents, fearing a woman was being abducted, called the police. It was such a gem of an idea, I used it as the basis of the first book. I felt the story belonged there and it was creatively liberating not to set it locally.
I'm fascinated by your love for birds of the crow family. How did it start and what's it like having them in your home?
I adore corvids. They are smart, funny and outrageously naughty. As a child I read 'Arabel's Raven' and was hooked. My husband has a background in wildlife conservation, so he was indulgent of my desire to have them around. However, these birds do not consider themselves to be pets, so any delineation of what belongs exclusively to me, does not register in their minds. They have an insatiable desire to examine and destroy, which can be less than entertaining.
What is your writing day like?
I always start each day with good intentions but am easily distracted: very easily distracted! When I'm on a roll I do a quick house tidy, put on a wash and settle down with a coffee. If I'm really on a roll, I'll even turn my phone to silent.
And what is your writing space like?
I have a lovely office with a beautiful writing desk, which is covered in paperwork, a hairdryer, books and a sewing box. I rarely, if ever, sit down to write there. I tend to sit next to the log burner or in the conservatory, where I can gawp at the bird feeders.
What are you writing next?
I am a quarter of the way into a 'stand-alone' set in Shropshire, called 'The Girl Who Drowned'. I'd describe it as a psychological thriller.
Do you like to read other serial killer books or do you prefer to read something lighter to give you a contrast?
I do love a good crime novel but since I started writing professionally, I read much less genre and a great deal more natural history and science.
Brilliant, thanks for that Karen. I love the sound of your 'stand-alone'.
---
So if you like the sound of The Cold Room then you can buy it at AMAZON UK or AMAZON.COM. Or scroll down for more than one fab chance to win a copy.
---

2 lucky readers have the chance of winning a signed paperback copy of the book!
PLUS…………..HEAD ON OVER TO GOODREADS FOR ANOTHER CHANCE TO WIN A COPY OF THE BOOK!
---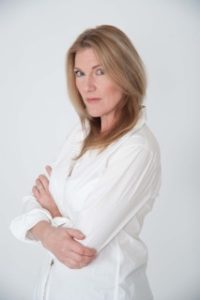 Karen Long was born and raised in the English midlands, educated at Bangor University and taught English and Drama for fifteen years. During her teaching years she studied biology and neurology with the Open University and this interest in medicine, forensics and forensic psychology is reflected in her writing. She is an enthusiastic traveller and has spent time in Toronto, which became the backdrop and inspiration for The Safe Word.
She is a keen amateur naturalist with a deep and abiding love for the crow family. She has dedicated time, love and several fingers in an effort to rehabilitate crows, magpies, rooks and ravens.
Karen is happy to correspond with readers and can be contacted through her website KarenLongWriter.com, where she posts regular blogs.
The Safe Word is Karen's first novel and was an Amazon bestseller, later joined by the second in the Eleanor Raven series, The Vault.
All author or review enquires please contact Karen Long's Personal Assistant J.B. Johnston – brookbooks@hotmail.co.uk
---
Did you know that Eleanor Raven is also online?