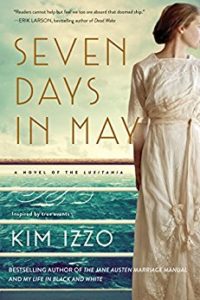 #blogtour – Seven Days in May by Kim Izzo @kimizzo @Harper360 #guestpost
I'm delighted to be on the blog tour for Seven Days in May by Kim Izzo today. Unfortunately I didn't quite manage to get it read in time but I'm almost there so my review will be coming soon. It's absolutely wonderful, I can tell you that. In the meantime I have a guest post from Kim about the women in the book, but first of all here's what it's all about.

As the First World War rages in continental Europe, two New York heiresses, Sydney and Brooke Sinclair, are due to set sail for England. Brooke is engaged to marry impoverished aristocrat Edward Thorpe-Tracey, the future Lord Northbrook, in the wedding of the social calendar. Sydney has other adventures in mind; she is drawn to the burgeoning suffragette movement, which is a constant source of embarrassment to her proper sister. As international tempers flare, the German embassy releases a warning that any ships making the Atlantic crossing are at risk. Undaunted, Sydney and Brooke board the Lusitania for the seven-day voyage with Edward, not knowing that disaster lies ahead. In London, Isabel Nelson, a young woman grateful to have escaped her blemished reputation in Oxford, has found employment at the British Admiralty in the mysterious Room 40. While she begins as a secretary, it isn t long before her skills in codes and cyphers are called on, and she learns a devastating truth and the true cost of war. As the days of the voyage pass, these four lives collide in a struggle for survival as the Lusitania meets its deadly fate.
If you like the sound of it then you can buy it as an ebook or paperback.
---

The Women of Seven Days in May
When I set out to write a novel about the sinking of the Lusitania I had thought of the character of Isabel Nelson, a female code-breaker who works in the Admiralty's secret war room – Room 40.  But it wasn't until I began researching the novel that I created its main heroine, Sydney Sinclair.
That's the amazing thing about historical fiction and its necessary research – it leads you down different paths that you might not know existed. Of course I knew about the women's movement but didn't precisely understand the timing and how it dovetailed with the Lusitania's own journey.
After I'd delved into the ship's final crossing and understood the ins and outs of the ship, its layout, design and the cross-section of society that sailed on her that fateful day of May 1, 1915, I then began to explore what other socio-cultural events where unfolding around the globe. The women's movement had been gathering momentum in America, particularly the debate over access to a woman's reproductive rights, and it felt like a natural fit, hence the creation of Sydney; a suffragette with a personal connection to the contraception issue. I don't want to spoil the novel by explaining what that connection is, but suffice to say it drives her character to make choices that alienate her family and friends and yes, even strangers. But it is accurate for the period and sets her apart from her sister, Brooke and many other ladies of a certain class.
I've had readers question whether a woman of means – the Sinclair sisters are from one of the wealthiest families in New York – would "steep" to politics. Of course! Women from all walks of life took up the cause on the streets of America and in England during that era. Wealthy women gave to the cause and marched in protests. Sydney is one of these women.
Isabel came from the other side of the tracks. She is a working class girl, lower working class, having been previously employed as a maid. Again, not to spoil anything for readers, she made a poor decision that cost her a job and her reputation, but she rises above the scandal and lands at the Admiralty. I love Isabel's ability to stand her ground against the men she works for and to fight to be heard above these same male voices in Room 40.
In reality there were several women who would work as code-breakers in Room 40 during the First World War and many who continued to work in this capacity between the wars. Room 40 eventually became Bletchley Park during the Second World War, generally people are more familiar with it than Room 40. But it all began in the fall of 1914.
I am a feminist, and it was vital that my female characters be strong, independent and provocative. What I didn't anticipate was how the world would change so close to publication and that, in America in particular, would be thrusting the same women's issues – women's reproductive rights, equal opportunities, equal pay among others – to the forefront of the socio-political agenda.
---
That was a fabulous guest post, thank you so much Kim. Thank you also to Emma Dowson for the place on the blog tour. Please do check out the other blogs taking part in the tour.
---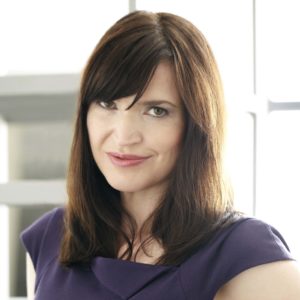 Kim Izzo is an author, screenwriter and journalist living in Toronto.  She is the author of The Jane Austen Marriage Manual and My Life in Black and White and the co-author of two etiquette books, The Fabulous Girl's Guide to Decorum and The Fabulous Girl's Guide to Grace Under Pressure. Kim's great-grandfather sailed on the Lusitania and lived to tell the tale and inspire the novel.