#blogtour – Oh! What a Pavlova by Isabella May @IsabellaMayBks @emmamitchellfpr @crookedcatbooks #QandA
I'm so pleased to be taking part today in the blog tour for Oh! What a Pavlova by Isabella May. I have a Q&A with Isabella further down this post but first here's what the book is about:

Kate Clothier is leading a double life: a successful jet-setting businesswoman to the outside world, but behind closed doors, life with Daniel and his volcanic temper is anything but rosy.

Some days – heck, make that EVERY day – cake is her only salvation.

Slowly but surely, the cities she visits – and the men she meets – help her to realise there IS a better future.

And the ley lines of Glastonbury are certainly doing their best to impart their mystical wisdom…

But will she escape before it's too late?
If you like the sound of Oh! What a Pavlova then you can buy it from Amazon UK or Amazon US. I'd like to pass on my thanks to Emma Mitchell for the place on the blog tour.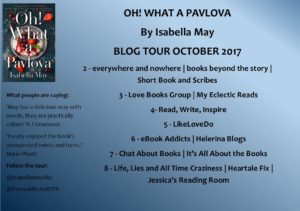 ---

How did you choose the names of the characters in your book?
I don't have a specific method for choosing character names. They just come to me and I play around with them for a bit and then go from there. That said; the number of times many of the characters names in 'Oh! What a Pavlova' have changed, is something else! In my defence, the novel took a good few years to write…
Are you a plotter or a pantser?
I'm a complete pantser. Show me a spread sheet and I'll run a mile. I think many 'creatives' are the same; that logical part of our brain housing our 'organisational skills' just doesn't work. We consistently go off at tangents, but our best ideas come from doing just that. I do however, have a diary. That part is a must! But everything else is notebooks full of scribbles and Post It notes.
Do you read your reviews?
At the time of writing this, I haven't yet received any reviews, because this is my debut novel. I'm a bit of a Law of Attraction geek and one of the things I try to do is focus only on The Wanted (easier said than done, of course). But every writer is bound to come face to face with a rubbish review, mainly because we aren't everybody's cuppa, and neither are our stories. But that's OK, there's room for us all, and our tribe, our readers, are out there somewhere! I don't think I would ever reply to a bad review as it's just feeding the fire of negativity and putting it out there to the Universe: more of the same! I can't deny that it might be tempting to retaliate, but I am determined not to do it.
What is your least favourite part of the writing/publishing process?
My least favourite part (here I go talking about unwanted stuff and contradicting myself… only for the purpose of this question though, LOL!) has to be the amount of marketing involved. I enjoy some of it, but not all. Yet it is something that all of us writers need to embrace. Being an author in 2017 and beyond is half writing, half promotion of your 'brand'. I'm glad I started out fairly early with the networking and plugging away side of things because there is so much to do and you can't create a social media following overnight. But it isn't always the most natural thing for a writer. If it was, we'd all have degrees in Marketing, after all.
What are your favourite/least favourite scenes to write?
I love writing scenes packed with wit and observation. These will usually involve jump-off-the-page characters and food. Food or drink always has to put in an appearance. I also love it when a little spiritual/magical inspiration arrives from nowhere and turns everything quite poetic. It's the biggest surprise. You really have no idea where it comes from.
I'm not so keen on penning darker scenes. I'm not a crime or psychological thriller fan (by nature) and yet some of my characters do have psychotic and negative traits and tendencies. Where would the resolution be otherwise? So I have to write these scenes on grey days that match the shade of the words. By the time I am done, it feels somehow cathartic.
If you could have one super power what would it be and why?
One super power? That's easy. I'd remember to remember all the time that we are in charge of our lives and there is no fate, everything is vibration and Law of Attraction. We always create our reality by virtue of our thoughts, feelings and actions. Now that would be awesome!
Fabulous, thanks so much, Isabella.
---

Isabella May lives in (mostly) sunny Andalucia, Spain with her husband, daughter and son, creatively inspired by the sea and the mountains. When she isn't having her cake and eating it, sampling a new cocktail on the beach, or ferrying her children to and from after school activities, she can usually be found writing.
As a Co-founder and a former contributing writer for the popular online women's magazine, The Glass House Girls – www.theglasshousegirls.com – she has also been lucky enough to subject the digital world to her other favourite pastimes, travel, the Law of Attraction, and Prince (The Purple One).
She has recently become a Book Fairy, and is having lots of fun with her imaginative 'drops'!
Author photo from the author's website