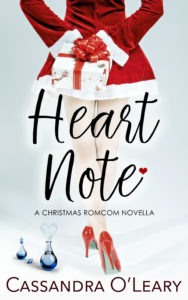 #blogtour – Heart Note by Cassandra O'Leary @cass_oleary @rararesources #guestpost #giveaway
Welcome to my stop on the blog tour for Heart Note by Cassandra O'Leary. Thank you to Rachel Gilbey from Rachel's Random Resources for the place on the tour. I have a lovely guest post from Cassandra for you all about her best Christmas presents and there's a fabulous giveaway too but first let's see what Heart Note is about:

Love is like a fine perfume. The top note draws you in, an instant attraction, but the Heart Note is the true essence. Like true love – a great perfume should be a woman's perfect match.

At least, that's what perfume counter manager, Lily Lucas, tells her customers in one of Australia's largest department stores.

It's almost Christmas, the store is bedecked with baubles and Lily has about eleventy billion gifts to wrap and sell. She and her team of spritzer chicks are glamorous, professional and hoping they don't have to wear the hideous red onesies and reindeer antlers the store manager has in mind.

The high point of Lily's work life is Christos Cyriakos, ex-cop, security guard, possible Greek god. He's a mystery box she'd love to unwrap. But can she trust him?

All Lily wants for Christmas is to kiss Christos (and more), catch a band of thieves running amok in the store, and live happily ever after. Is that too much to wish for?
Like the sound of it? The here are all the links you need:
And do please have a look at the other blogs taking part in the tour.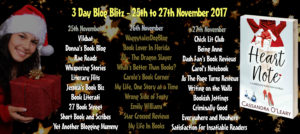 ---

The Best Christmas Present Ever
It's strange to think about the best Christmas present I ever received and to realise it was back in childhood. I suppose nothing replaces or compares to the giddy excitement of a child opening presents on Christmas morning.
I remember getting up very early one year on Christmas Day, sneaking into our lounge room and seeing a shiny red bike sitting there near our tree. I couldn't believe it at first, but I was so excited I literally jumped up and down. I'm not sure exactly how old I was – five or six maybe? Old enough to learn to ride a bike without training wheels. I still had training wheels at first though and my Dad would hold onto the back of my bike as he ran along with me down our street.
It's funny that came to mind, because I've just bought new bikes for my two growing boys, aged 8 and 6, who both took off as great riders this year and have grown so much their first bikes are too small.
And my husband decided to buy me a bike as a surprise. I hadn't actually ridden a bike for about 30 years! I managed a half-hour ride at a local park with my boys and it was great fun, aside from the sore nether regions. Best not to talk about the way I hobbled around like an old woman the next day…
This is a photo of my new, vintage-style women's bike. I guess it's an early Christmas present for me.
A surprise is better than diamonds
Later in life, a present that stands out is a set of diamond stud earrings my boyfriend (now husband) gave me. I guess I was about 25 years old. They were exactly the style I liked, and he hadn't given me any clue he was giving me a special gift.  He's a sweetheart. This memory stands out because my hubby was so excited to surprise me.
These days I'd like a peaceful world
Christmas presents are fun, but these days I'd like something less material and more ephemeral. A peaceful world where my children can grow up safe and happy, able to make a good life for themselves. But more than that, I'd like others to have the same opportunities that my family has here in Australia.
I'm becoming more aware as I grow older that where I live and many of the opportunities I've been fortunate enough to enjoy, have been more a result of an accident of birth than any good planning.
I want to do more to help others and make a difference in the world, even if it's in a small way. I'll be making donations to the Melbourne City Mission, helping homeless people in my own city, and also the Asylum Seeker Resource Centre, a great grassroots charity helping refugees settling in Australia with basic essentials. I'll be talking to my kids about this too, to help instill a sense of gratefulness for all we have.
This blog turned out rather more serious than I'd expected! I'd also like a nice bottle of perfume for Christmas, as a treat just for me.
Thank you, Cassandra. I love your new bike – I hope you enjoy riding it.
---

  Win 5 x E-copies of Heart Note by Cassandra O'Leary (Open Internationall)
a Rafflecopter giveaway

---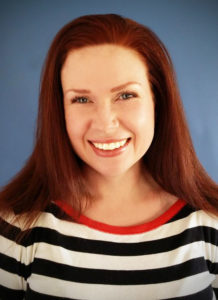 **Winner of the We Heart New Talent contest, HarperCollins UK. Nominated for BEST NEW AUTHOR in the 2016 AusRom Today Reader's Choice Awards for excellence in Australian romance fiction.**
Cassandra O'Leary is a romance and women's fiction author, communications specialist, avid reader, film and TV fangirl and admirer of pretty, shiny things.
In 2015, Cassandra won the We Heart New Talent contest run by Avon Books/HarperCollins UK. Her debut romantic comedy novel, Girl on a Plane, was published in July 2016. Cassandra was also a 2015 finalist in the Lone Star writing contest, Northwest Houston Romance Writers of America, and a 2014 finalist in the First Kiss contest, Romance Writers of Australia.
Cassandra is a mother of two gorgeous, high-energy mini ninjas and wife to a spunky superhero. Living in Melbourne, Australia, she's also travelled the world. If you want to send her to Italy or Spain on any food or wine tasting 'research' trips, that would be splendiferous. You'll find Cassandra online, drinking coffee and possibly buying shoes. Oh, yes. And writing.