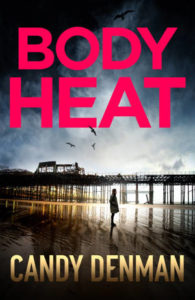 #BlogTour #GuestPost by Candy Denman, Author of Body Heat @CrimeCandy @CrimeSceneBooks #RandomThingsTours
Welcome to my stop on the blog tour for Body Heat by Candy Denman. I have a great guest post from Candy about setting to share with you today. I'd like to thank Anne Cater from Random Things Tours for the place on the tour.
Dr Jocasta Hughes is faced with a gruesome series of murders which leave the remains of the victims twisted and charred. The hunt heats up for the arsonist, and so does Jo's relationship with the exasperating DI Miller. A chilling mystery with lead characters you want to spend more time with, and a murderer you definitely want to avoid.
You can get a copy of the book from Amazon UK
---
by Candy Denman
When I am writing, the setting for my stories is almost, but not quite, as important as the characters. It didn't take me long to choose Hastings on the south coast of England as the location for the Jocasta Hughes series because I know it so well. It is a town I visited for holidays as a child, took my own children to as they were growing up and still visit several times a year.
As a writer, I needed a place that could be the possible location of a variety of events and Hastings has always seemed to me to be several different towns crammed into one. There is the Old Town with its history and a strong local arts community; the fishing port with the largest, beach-launched fishing fleet in Europe; the pebble beach, pier and funfair, thronged with tourists and day-trippers on a sunny day and the elegant houses and public gardens of St Leonards; all contrasting with the more modern shopping centre, with the homeless camped out in doorways. Hastings has well-documented drug and unemployment problems and  areas of great deprivation but on a sunny day standing at the top of the West Hill looking across the Old Town to the sea, it is hard to imagine anywhere I would rather be. And did I mention that everything is surrounded by beautiful countryside?  That certainly wouldn't hurt if ever they decided to film any of my books.
For a long time, I considered changing the name of the town for my books and pretending that it was a fictional location. There would be many advantages to doing this as it would make it easier to change things if I needed to and I wouldn't have to worry if things changed between writing and publication, bars and restaurants in particular have a nasty habit of closing down or changing names, but I decided that I wanted to tell everyone about this fascinating town and all the places I loved, so I kept it identifiably Hastings. Residents will recognise Jo and Kate's favourite haunts: The Stag in All Saints' Street and Porters Wine Bar in the High Street, which both feature regularly as well as a number of other locations- the seafront, George Street, the Hastings Arms, the Stade and Jo's home on the East Hill.  The twittens, narrow passageways between houses that cannot be reached by road, are wonderfully atmospheric places for ambushes and chases. However, I have had to change some names and places to fit the stories, and protect the innocent. In particular, I have changed the name, location and even ward names of the hospital, a fine institution where some of my characters most certainly would not be allowed to work, and also the surgery where Jo works as a GP in the Old Town is fictional. I have also felt it necessary to make up other pubs, clubs and locations where I perhaps was less than flattering about them. I have no desire to be sued!
Over the years, Hastings has changed and will continue to change, giving me new ideas for stories every time I visit. With all these different communities, packed into such a small geographical area, Hastings is for me a great inspiration and will hopefully continue to be so for the many different stories that will be needed to sustain a series. I hope you enjoy discovering the town in my books as much as I enjoy being there.
Thank you so much for such an interesting post about your settings, Candy.
---

---

Candy Denman is a Crime and TV script writer of programmes such as The Bill, Heartbeat and Doctors. Author of the Dr Jocasta Hughes crime series set in Hastings.