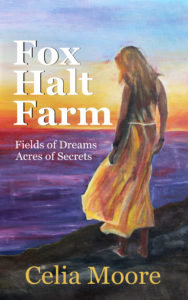 #blogtour – Fox Halt Farm by Celia Moore @CeliaMooreBooks @BrookCottageBks #GuestPost #Giveaway
I'm delighted to be taking part in the blog tour today for Fox Halt Farm by Celia Moore and what a packed post I have for you. Many thanks to Brook Cottage Books for the spot on the tour. I have a great guest post from Celia about keeping track of her characters, an extract and there's also a giveaway but first here's what the book is about:
FOX HALT FARM is a compelling love story set over two decades with a backdrop of atmospheric Dartmoor, Devon. Perfect for fans of ROMANCE – this is a powerful and CAPTIVATING READ.

Opening on a cliff edge, Billy finds herself alone and betrayed. She believes everyone and everything she loves is threatened.

Richard's world is aglow with wealth, love and unswerving family loyalty but then his perfect life crosses Billy's. He could save Billy, her beloved dairy cows and Fox Halt Farm but this young woman isn't in the mood to be rescued.

Nothing will stay the same. Should they trust each other? Will their secrets tear their lives apart?

Fox Halt Farm is going to be hard to put down. The story cracks along and you are caught up in Celia Moore's vivid storytelling from the start. If you love novels by Jill Mansell, Maeve Binchy and Danielle Steel you will love this too!

Billy and Richard's story will tug on your heart-strings.  This novel is emotive, enthralling and so real – this is what could happen when two very different worlds collide.
Like the sound of it? Then read on for an extract and all the buying links you need.
---

PART ONE
CHAPTER 1
RICHARD MARCFENN
(SATURDAY 12 JULY 1986)
There must be at least twenty irregular steps to negotiate before we reach our honeymoon hotel. I can see that my petite wife is wishing that she hadn't worn her million dollar heels, which were never fashioned for this unforgiving terrain.
I catch something in the edge of my vision. I screw my head towards Janette,
'Did you see that? Darling! Did you see?'
'No. What?' She is still focused on the steps.
'I thought I saw something falling,' I point at the jagged headland and I tell her, 'I must check it out!'
Straightaway, I abandon my wife and charge ahead to the edge of the cliff. My eyes are scrutinising the white beach far below. Nothing…
I search harder. I feel exhausted. The journey to this remote Greek island was so much longer than we expected and leaving straight from our wedding was definitely a mistake.
Concentrate! My straining eyes pick up the tiniest movement, or maybe my ears sense the faintest noise. I am aware of something, a laugh maybe?
As I make out a small indistinct shape at the bottom of the cliff, my heart pumps my blood too fast. A vein throbs in the middle of my forehead and I mouth horrified questions to no-one, 'A child? Did they fall?'
I think I hear the haunting noise again, the ghost of another laugh?
*
Janette is watching me from the verandah of the hotel. She is with a tall woman, whose white skin is shadowed by a straw hat. My wife swipes a wayward strand of her hair away from her face, while her companion links her fingers over a pregnant bump. As I run back, I see a young man approaching them – a native islander with a confident swagger. I shout but they can't hear me.
When they do understand, the man straightaway nods towards a steep path leading to the beach below, 'I come with you,' He barks before yelling back at the pregnant woman, 'Get someone with boat there!'
'Okay.' From the tone of her reply it is difficult to know if she is willing, or bored?
Janette's doe eyes look frightened, she tells me, 'Sorry Rich, that path is too precarious. I can't come with you. Be careful luvva.'
I kiss her, 'I'll be fine, please don't worry. I love you!'
STOP PRESS: On special offer until 1st December! Only 99p!
---
Keeping track of my characters – 
How they developed in my novel, Fox Halt Farm

Four characters started off my novel – I saw their journey and I knew how they would interact. There was Alisha, Richard, Michael and Michael's wife, Jessie. These people jumped into my head one night and refused to go away – they had a story and it was clear that I wasn't going to get any peace until I recorded it!
I found an old notepad and I started to write, I have a confession here because I kept my hectic scribbling secret from my husband – we don't have secrets but I wanted to build the beginnings of my book without interruption– I didn't want advice or anything to stop the flow of my initial thoughts – but slowly it dawned on me, just how long this was going to take!
Extra characters were required and I decided I needed a spreadsheet – my novel would run over decades – there would be children, birthdays and significant anniversaries of different happenings – I needed a computer. If I wanted to complete this compelling novel, I needed two things; time and Paul's support.
My husband's reaction to my casual statement over breakfast that I suddenly had to write was wholly positive, the amazing man said I had to do it – I mustn't let something like this fade away – 'Don't live on regrets'. I explained that I would need a month to get the book finished and despite us living on the money we earn each month, he said 'Do it, Celia.' He would work extra hours to make up my lost income. So that's what I did. It hasn't taken a month though!
I treated my new adventure as a job – I started at 8.30am and wrote until Paul got home, I made dinner and then I got back to typing – most days I crept into bed about 2 or 3 in the morning. The story took over my life. I was obsessed.
The spreadsheet was invaluable, as new characters crept in, I added a new column with their names. The other index was the year – I could track their ages and events and I had an easy-to-manage timeline.
Character's names changed as the book developed because my original ones weren't working for me. Central Alisha metamorphosed into Billy early on – it seemed right for her as she grew more real. Billy is eighteen-years-old at the start and she had to slowly acquire new attitudes – not always the wisest ones, to deal with the events and people she experiences. She is naive with the world at her feet but the initial events in the story leave her fearful and unable to trust.
The plot changed too. As characters developed the things that happened to them needed to change to. I had to create scenarios which exposed their changing perspectives. One of my favourite characters Daniella, Billy's mother evolved. At times, it felt like the characters were actually living these lives– I was simply writing what I saw. At other times, I was Billy with all her demons. I lived through all my characters' back stories even though I wasn't going to include them all in the book. Instead I would use carefully chosen morsels to convey their past experiences. I understood their motives and reactions and I cried their tears.
I had to lose a couple of my minor characters and it was desperately hard to let them go. They were precious friends and I nearly corrupted the future plot so I could hang onto them. Their particular stories were so interesting to me that I considered giving them main roles instead of the intersections they were intended to be. My characters nearly took control!
I mapped out each individual's core values so I knew how their morals would cause them to behave and the novel saw these challenged, changed and sometimes restored – just as I see happen in life. I wanted to let some characters give an outward projection of themselves that wasn't true – again, just like the real world when you discover people aren't as nice as you thought! Every character reacted differently to situations some became stronger and learnt from mistakes – others crumbled. Fox Halt Farm became so real because my characters felt like they really lived this story. Some fell apart, some were played and some triumphed. A true adventure for the characters and me!
It all sounds fascinating, Celia. Thank you so much. And that spreadsheet sounds invaluable!
---

GIVEAWAY
£20 / $20 AMAZON VOUCHER
a Rafflecopter giveaway

---

Celia Moore was born in Devon, England, and grew up on a farm. Celia left the farm to have a successful career as a Chartered Surveyor working in the City district of London.
In 2000 she left the office life behind to start a new adventure of becoming an outdoor instructor and taught rock climbing, mountaineering, canoeing and even skiing, archery, rifle shooting and mountain biking. She managed an outdoor residential centre until she met her husband and now she is concentrating on gardening for a few lovely customers, running and writing.
Born fifty years ago this year, Celia has been creative ever since – from explaining why there are no chocolate biscuits left when visitors arrive, to writing glowing particulars for ugly properties; from encouraging people to have a go at a scary abseil, oil painting and writing. Celia loves it all but especially the gardening, running and the writing!