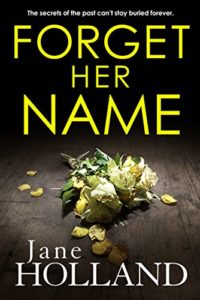 #blogtour – Forget Her Name by Jane Holland @janeholland1 @rararesources #GuestPost
Welcome to my stop on the blog tour for Forget Her Name by Jane Holland. Thank you to Rachel Gilbey from Rachel's Random Resources for the spot on the tour. This is one of those books I would really have loved to have read but, sadly, I couldn't fit it in. I have a fab guest post for you from the author about her time as a semi-professional snooker player further down this post, but first of all, shall we see what the book is about?
Rachel's dead and she's never coming back. Or is she?

As she prepares for her wedding to Dominic, Catherine has never been happier or more excited about her future. But when she receives an anonymous package—a familiar snow globe with a very grisly addition—that happiness is abruptly threatened by secrets from her past.

Her older sister, Rachel, died on a skiing holiday as a child. But Rachel was no angel: she was vicious and highly disturbed, and she made Catherine's life a misery. Catherine has spent years trying to forget her dead sister's cruel tricks. Now someone has sent her Rachel's snow globe—the first in a series of ominous messages…

While Catherine struggles to focus on her new life with Dominic, someone out there seems intent on tormenting her. But who? And why now? The only alternative is what she fears most.

Is Rachel still alive?
If you like the sound of it too then you can get it from Amazon UK or Amazon US.
---
By Jane Holland
For six years in my twenties, I was a semi-professional snooker player. That is, I played snooker full-time, but did not earn enough from the game to be considered a professional, and never joined the men's professional circuit. However, at the time I certainly felt like a professional player!
Most days I was on the table for a minimum of 6-8 hours, sometimes far longer, and rarely ever skipped a day. At least four hours of that would be solo practice time. The rest would be practising against other club players, or playing a competition or league match during the season.
Playing snooker is not a cheap sport to work at, even part-time. I earned my own practice table time or 'lights' by working in my local snooker club, either behind the bar, cleaning the place after hours, or ironing the tables. Ironing the baize is a specialist job, and was always my favourite task. Even though snooker tables are huge, and a club with more than 12 tables makes for several hours' work, it's a very calming and satisfying task to sweep and smooth the baize cloth.
Although I played against men in general while at my home club, women players being scarce locally, my real focus was the WLBSA, or World Ladies Billiards and Snooker Association events. There I played against other women, and earned points per match won.
I began playing the world circuit in 1989. I played monthly tournaments over six years, gradually rising through the rankings. My highest ranking was in 1994, when I was seeded 24th in the world at the Women's World Snooker Championships.
Most of my practice sessions consisted of playing the line-up, a common solo routine for top players. You line all the balls along the middle of the table lengthways, black to brown spot, then pot each one, usually in any order, without disturbing another ball. It's a serious test of skill not just of potting ability, but white ball control, and teaches a player key positioning skills, especially around the high-scoring black spot.
If another player was in the club looking for a game, we often played each other. I preferred to play someone of equal or greater skill, as you get complacent playing lesser players. We usually played for 'lights' – i.e. the loser picked up the table tab, which could be costly if the game continued over several hours! Sometimes we played for money. Sometimes quite a lot of money, which increased the pressure, making it more like a real 'match'.
It was rare in the nineties to see a woman in a snooker club, though plenty of women played pool. So often men would come in and challenge me to a game. There was always sexist banter, some of it quite unpleasant sexual jibes. But if I ever complained, things got even worse. Being outnumbered – I was usually the only woman player in the place – it was easier to accept the banter, and not make a fuss. I no longer play snooker, but if I did, I somehow doubt men would dare be so openly sexist!
In 1995, I fell out with my local snooker association over a newspaper interview I'd given. They banned me for life for bringing the game into disrepute. I was given the chance to apologise, but declined. Being banned meant I lost the sponsorship that enabled me to travel to tournaments. So I began writing poetry instead, always a great love of mine.
Later, I wrote a feature piece for the London Review of Books about my experiences, called Diary of a Hustler. Amazingly, a literary agent with Curtis Brown read it and asked to represent me. In 1998, Sceptre published my debut novel, KISSING THE PINK, based loosely on my life as a woman snooker player. Although my first decade as a novelist was rocky, I eventually went on to publish dozens more novels.
Writing a novel is similar to playing the line-up in snooker: it requires total focus and commitment, plus the ability to perform the same tiny, repetitive task for hours, day after day. And still want to get up the next day and start all over again.
I don't regret giving up snooker, though I miss the game sometimes. I absolutely love my job, and I'm a far better writer than I ever was a snooker player!
That was fascinating, thank you Jane. I never knew snooker tables had to be ironed!
---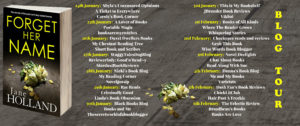 ---

Jane Holland is a Gregory Award–winning poet and novelist who also writes commercial fiction under the pseudonyms Victoria Lamb, Elizabeth Moss, Beth Good and Hannah Coates. Her debut thriller, Girl Number One, hit #1 in the UK Kindle Store in December 2015. Jane lives with her husband and young family near the North Cornwall/Devon border. A homeschooler, her hobbies include photography and growing her own vegetables.