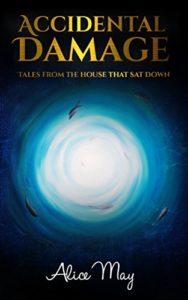 #blogtour – Accidental Damage by Alice May @AliceMay_Author @emmamitchellfpr #guestpost
I'm delighted to be on the blog tour for Accidental Damage by Alice May today. Here's what the book is all about:
If you think the normal school run on a Monday is entertaining, you should try doing it from a tent in your back garden surrounded by the jumbled-up contents of your entire home. It is vastly more diverting.
Our heroine has survived the sudden collapse of her home – or has she?
Certain events two and a half years ago, led her to deliberately destroy an important piece of herself, hiding away all remaining evidence that it ever existed. What happens when she decides to go looking for it?
Does she really deserve to be whole again?
Inspired by a true story, this is an account of one woman's secret guilt and her journey in search of forgiveness!
Today I have a character spotlight post from Alice, all about the mother in the story.
'Accidental Damage – Tales from the house that sat down' is a novel that focuses on a family under pressure. Their home collapses one day and they are forced to move into a tent in the garden.

The story is written retrospectively from the mother's point of view and it is her that I have chosen for this Character Spotlight. She was in my head for a long time, constantly bugging me, before I actually started to write so that, when I finally began, she simply poured onto the page. I feel that in writing Accidental Damage I gave this poor damaged mother a voice, but because of the way the book is written the reader never finds out what her name is.

She is an artist who is using her painting as a security blanket to help her work through the feelings of guilt she has about her role in events two years previously that lead to her and her family (husband and four children) suddenly becoming homeless. In a series of flashbacks, we learn exactly how they became homeless and how they dealt with the situation. At the same time, we see the mother in the future reacting to each stage of the story with a new piece of art. I have been an exhibiting local artist for over a decade and the concept of art as a therapy for emotional and/or psychological trauma is a very important part of this story for me.

'Accidental Damage' was inspired by a true story (Yes, our home did partially collapse and we then spent a year living in our garden. All fixed now! J) so I relate to the mother in my tale very strongly. I have been asked many times if she is actually me, but I would have to say no. However my personal 'homeless' story has definitely enriched this fictional tale.

I wanted to give a glimpse into how everyday life, which is often challenging enough for mums on a daily basis anyway, can become almost impossible with just one fundamental element changing causing a ricochet through everything else.  We all take our homes for granted, the roof over our heads, the security and warmth of being protected from the weather and the outside world. Your home is supposed to be a place of safety! It is almost unthinkable that it could be lost in the blink of an eye. But that is what happened to this family and that is what this mother had to deal with. At the same time I wanted to show that life does go on regardless and that by pulling together, as a family should at these times, you can survive anything.

The mother is flawed but likeable. She has a fairly sarcastic sense of humour which enables her to frequently see the funny side of an intolerable situation and the book is packed with humorous anecdotes about what family life is like when you end up living in your garden.

I believe that she is the sort of person that I would enjoy meeting up with for a cup of tea, a slice of cake and a long chat.
So if you like the sound of Accidental Damage it's available now in paperback and ebook here.
---
I'm one of the last stops on the tour but please do go and check out some of the other blogs who have posted about this book.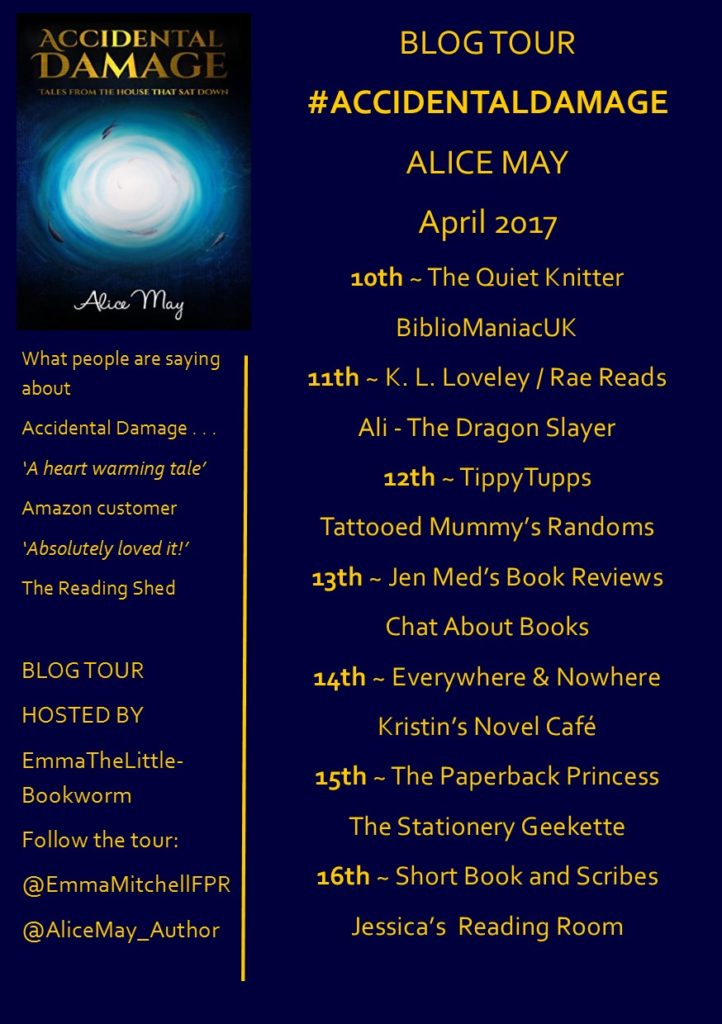 ---
Author bio:
At forty-five-years old, I am a multi-tasking mother with four not-so-small children and I am fortunate enough to be married to (probably) the most patient man on the planet.  We live in, what used to be, a ramshackle old cottage in the country.
My conservatory is always festooned with wet washing and my kitchen full of cake.
Following several years exhibiting as a mixed media artist, I decided that 2016 was the year I would start writing. Inspired by true-life events and fuelled by some really frantic painting sessions 'Accidental Damage' wouldn't leave me alone until it was written. I really hope you enjoy it.