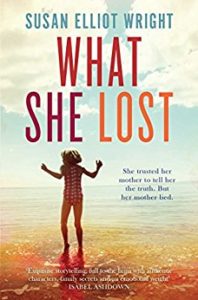 #booklaunch – What She Lost by Susan Elliot Wright @sewelliot @simonschusterUK @WstoneSheffield
Last night I was lucky enough to go along to the launch of Susan Elliot Wright's new novel, What She Lost. It took place at Waterstones in Orchard Square, Sheffield, a shop I used to frequent when I worked in the city centre. I used to joke that I was keeping that shop going with all my purchases! Alas, I no longer work near a book shop 🙁
The launch took place in the upstairs cafe and we were met with wine, nibbles, hot drinks and mini cakes – all rather delicious. There was a nice display of the new book and one of Susan's previous books, The Secrets She Left Behind, and I took the opportunity to get my copy before the event started.
Susan then talked a bit about the book and how difficult it was to write, and then read three short but tantalising extracts.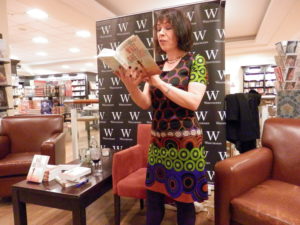 She then answered a number of questions from the audience and spoke a little about book four. She said that although she had never been one for planning her books, she had planned that one much more and it was a lot easier to write because of that. She was also asked which authors made an impression on her and one she mentioned was Maggie O'Farrell. Susan's books have been compared to her books and I can see why.
Then there was just time for book signing before the shutters came down and we might have been locked in Orchard Square all night (oh wait, what would be so bad about being locked in a book shop overnight?!).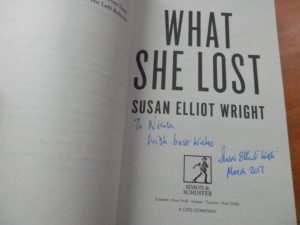 It was a fabulous evening and I wish Susan all the very best with What She Lost. I'm really looking forward to reading it. I enjoyed her first two books and understand that this one is even better. I hear Susan was a little the worse for wear this morning (I thought it was kinder not to post the picture of her with a wine glass 😉 )
Here's what the book is all about if you fancy a read yourself and it's out now in paperback and ebook:
Eleanor and her mother Marjorie have always had a difficult relationship and although they've tried, they have somehow just failed to connect.
Now Marjorie has Alzheimer's, and as her memory fades, her grip on what she has kept hidden begins to loosen. When she calls her daughter to say, 'There's something I have to tell you', Eleanor hopes this will be the moment she learns the truth about the terrible secret that has cast a shadow over both their lives.
But Marjorie's memory is failing fast and she can't recall what she wanted to say. Eleanor knows time is running out, and as she tries to gently uncover the truth before it becomes lost inside her mother's mind forever, she begins to discover what really happened when she was a child – and why…
A story of family and secrets, perfect for fans of Maggie O'Farrell.