ShortBookandScribes #BookReview – You'll Never See Me Again by Lesley Pearse @MichaelJBooks @ed_pr #LoveLesley #BlogTour
I'm absolutely thrilled to be reviewing You'll Never See Me Again by Lesley Pearse today as she's one of my all-time favourite writers. My thanks to Ellen Casey (formerly) of ED PR for the place on the tour and to Michael Joseph Books for sending me a copy of the book for review purposes.
---
Betty is running for her life . . . 

Young Betty dreams of settling down to an ordinary life with her husband. But when he returns broken and haunted from the Great War, she finds herself persecuted by his distraught mother – and yearns to escape.

It is only when a storm devastates the village that Betty sees her chance. Fleeing to Bristol and changing her name to Mabel Brook, she seeks a new life – only to discover destiny has other plans.

Penniless and alone, Mabel suffers a brutal attack before being rescued by a psychic named Nora Nightingale. She gets her first taste of those who receive messages from the dead and realizes she may have this power herself.

But Mabel fears her gift may be a terrible curse as it becomes ever harder to hide from the truth about who she once was – and the tragic life she left behind.

Soon Mabel receives her own message and is forced back to the very place she has escaped. A place of heartbreak and perhaps even murder – but to secure her future Mabel must confront her past one last time.
You'll Never See Me Again by Lesley Pearse is out now, published by Michael Joseph, priced £20 in hardback.
---

Lesley Pearse has done it again. She's one of my favourite authors and she's weaved another fantastic tale. I've enjoyed all of her books but I do have a preference for the ones set longer ago and this one is set in 1917. Perfect!
Betty Wellows is in her early 20s, married to her childhood sweetheart, Martin. Sadly, Betty no longer has her parents and Martin's mother, Agnes, is a horrid woman. When Martin returns from the war severely injured and shell-shocked he's no longer the man Betty married. He's a shell of a man really. Given his injuries, Martin is unable to reach their tiny seafront cottage and so they live with Agnes. It's this that drives Betty to runaway one day during a storm. She just can't live with Agnes's venom any longer.
It may seem extreme but who knows what any of us would do in the same situation. Certainly, Betty feels she has no choice but to run to survive. She changes her name to Mabel Brook and tries to make a new life for herself.
For me, this is where the story really took off. Mabel takes work in houses that need help and I found this so interesting. I'm always far more interested in below stairs than above. She goes through the ups and downs I have come to expect from Lesley Pearse who likes to put her heroines through the mill but she always makes them strong enough to conquer whatever life throws at her.
Mabel is a genuinely lovely person and I loved her as a character. I also liked some of the people she came into contact with through her work such as housekeeper, Mrs Hardy, and Clara, an illustrator who becomes a friend as well as an employer.
The transformation that Mabel goes through in just a few short years is amazing, leading up to what I thought was a perfect ending. I was hoping and praying all the way through that she would get a happy outcome and that she would overcome the many tragedies in her young life.
I was totally engrossed in You'll Never See Me Again. It's an absolutely thrilling story with characters I loved and some I loved to hate. From start to finish it's full of heart and humanity, covering not only the final years of the First World War, but also the Spanish flu epidemic and those years just after the end of the war when men were returning and trying to get back to normality and women were finding that the war had given them a greater voice. This book is a triumph and I loved every minute I spent reading it.
---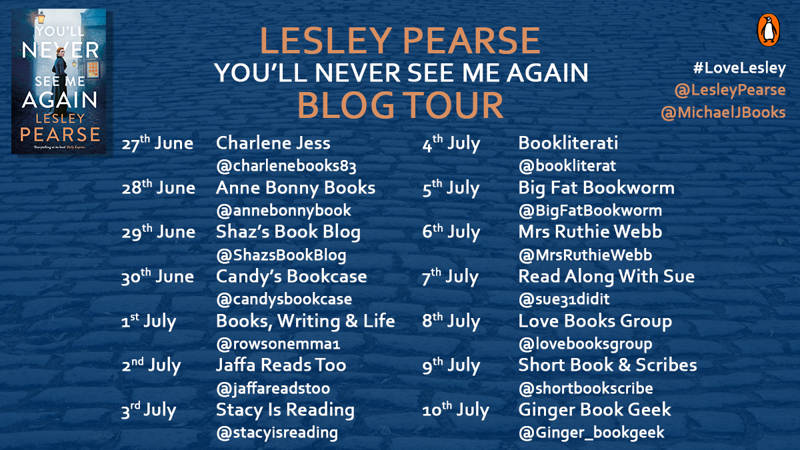 ---

Lesley Pearse was told as a child that she had too much imagination for her own good. She left home at 15 and headed to London where she worked her way through many jobs – from corsetry sales in Cooks of St. Pauls (featured in Dead to Me), to musician's muse (her second husband was a musician managed by Don Arden) to bunny girl to nanny; from gift shop owner to dressmaker – finally finding her true vocation when she became a published author age 49. Since then Lesley has become an internationally bestselling author, with over 10 million copies of her books sold worldwide.
A true storyteller and a master of gripping storylines, there is no set formula for a Lesley Pearse novel although strong heroines and difficult circumstances are pervasive. Whether historical adventures such as Gypsy or Never Look Back or the passionately emotive Trust Me, Lesley is inspired by stories of courage and adversity and often gives voice to women lost in history and people damaged by their childhood experiences. She is passionate about her research and her stories have taken her far and wide; from Alaska to the Crimea. Lesley now lives in Torquay in Devon where she loves to spend time walking on the beach with her grandchildren and dogs. A fantastic speaker and committed and passionate fundraiser for the NSPCC, Lesley is a much sought-after guest at literary lunches, library events and festivals up and down the country.