ShortBookandScribes #BookReview – Through The Wall by Caroline Corcoran @cgcorcoran @AvonBooksUK #BlogTour
I'm delighted to be reviewing this dark and intense psychological thriller today. My thanks to Sabah Khan from Avon Books for the place on the tour and for the review copy of the book.
---
Lexie's got the perfect life. And someone else wants it…

Lexie loves her home. She feels safe and secure in it – and loved, thanks to her boyfriend Tom.

But recently, something's not been quite right. A book out of place. A wardrobe door left open. A set of keys going missing…

Tom thinks Lexie's going mad – but then, he's away more often than he's at home nowadays, so he wouldn't understand.

Because Lexie isn't losing it. She knows there's someone out there watching her. And, deep down, she knows there's nothing she can do to make them stop…

A compelling, heart-racing thriller that will have you looking over your shoulder long after you turn the last page. The perfect read for fans of Louise Candlish and Adele Parks.
---

I was so intrigued by the premise of this story. Two women living next door to each other, each thinking the other has the perfect enviable life.
The two women are Lexie and Harriet. Lexie lives with Tom and she's desperate for a baby. Harriet lives in the flat next door, on the other side of a fairly thin wall, and she's rather more unstable. In alternating chapters we hear from each one as they simultaneously fall apart.
They say the grass is always greener and never more so than for Lexie and Harriet. Each is convinced the other has this sparkly and wonderful life compared to their own and yet nothing could be further from the truth. What works so well in this book is the claustrophobic feel of the flats. They're in a sought after part of London, and are not cheap, but they still live virtually on top of each other. They can hear what the others are up to in the next door flat and it starts to take over their lives.
It took me a bit of getting into Through The Wall, mainly I think because of the similarities between the two women. I kept getting muddled up with who was talking. But once I got into the story I soon got over that and I found this a difficult book to put down. It has short chapters, little bursts of narrative that kept me turning the pages quickly. Towards the end I was dreading what might happen, almost reading between my fingers, and the last word is, well, a bit of a jaw-dropper.
Caroline Corcoran portrays well what it must be like to be stalked, to be made to feel like you're going crazy. She also hits the spot in terms of unrequited love, obsession and desperation. I thought it was a fabulous debut. It's full of tension and is scarier than any murder mystery. I'll be excited to see what this author comes up with next.
---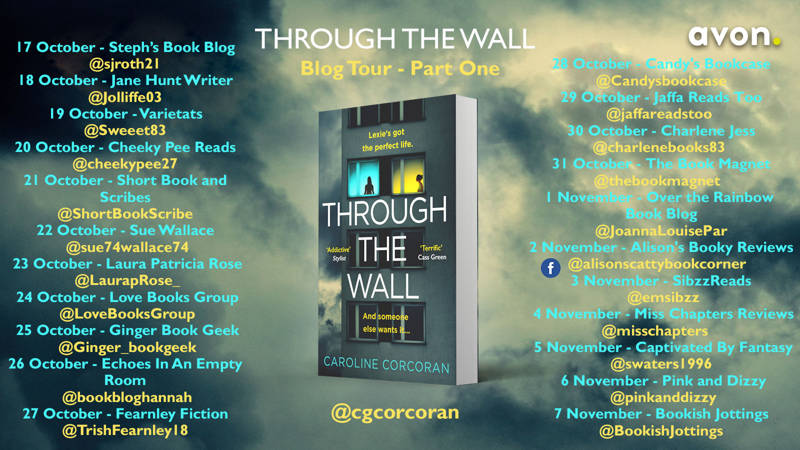 ---

Caroline Corcoran is an author whose first novel, Through The Wall, is out in October 2019. Her second book will follow in 2020.
As well as writing books, Caroline is a freelance lifestyle and popular culture journalist who has written and edited for most of the top magazines, newspapers and websites in the UK.