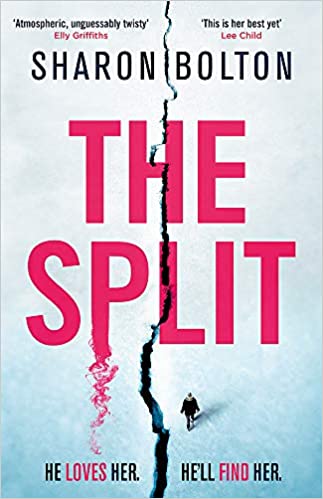 ShortBookandScribes #BookReview – The Split by Sharon Bolton
Today's review is of The Split by Sharon Bolton, an author whose books I love. My thanks to Alex Layt from Orion for sending me a proof copy of the book for review purposes.
---

---
SHE'S GOT NOWHERE LEFT TO HIDE.

A year ago, in desperation, Felicity Lloyd signed up for a lengthy research trip to the remote island of South Georgia.

It was her only way to escape.

AND NOW HE'S COMING FOR HER.

Freddie Lloyd has served time for murder. Out at last, he's on her trail.

And this time, he won't stop until he finds her.

BECAUSE NO MATTER HOW FAR YOU RUN, SOME SECRETS WILL ALWAYS CATCH UP WITH YOU…

Tense, gripping and with a twist you won't see coming, Sharon Bolton is back in an explosive new thriller about a woman on the run…
---

---
I love Sharon Bolton's books. I'd read them without knowing anything about them. I also love the fact that she obviously enjoys writing about remote islands. I absolutely love reading books set on islands. There's something so enticing about them, with their, at turns, beautiful and barren landscapes.
The Split is set partly on South Georgia, a remote island in the southern Atlantic Ocean. Very few people can live there but Felicity Lloyd is there because she works for the British Antarctic Survey as a glaciologist. She's a leading name in her field, despite the fact that she's only 28. Of course, she has another reason for going to South Georgia. It's a lot harder for her to be followed there. Freddie Lloyd has just been released from prison and he's on her trail. Why? Well, therein lies the story.
Excuse the pun, but this is only the tip of the iceberg. This is a multi-layered story which is full of the unexpected and I can't say a thing about any of it otherwise I will spoil it for you. What I will say is that Felicity herself is such a complex character, full of layers of her own and she's utterly fascinating.
I admit this book took a bit of settling into for me. I know why: it's because Bolton goes to great lengths setting up the multiple strands and introducing the characters to bring them all together to great effect later on. Her plotting is immense and I don't really know how she kept all the balls in the air but she did and it all made perfect sense. Sometimes psychological thrillers get a bit far-fetched and they just doesn't work, but not here.
I loved the setting so much. It's bleak and cold, full of atmosphere, totally inhospitable and the perfect place to hide. Or is it? Bolton really brought South Georgia to life on the page and I was gripped by Felicity's story which is incredibly clever and thrilling. I'll repeat what I started this review with: I love Sharon Bolton's books and this one is a cracker!
---
---
Sharon Bolton (previously S. J. Bolton) is the critically acclaimed author of some of the most bone-chilling crime books ever written. She has been shortlisted for the CWA Gold Dagger for Crime Novel of the Year and the Theakstons Old Peculier Crime Novel of the Year. In 2014 she won the CWA Dagger in the Library for her whole body of work.
Sharon lives near Oxford with her husband and son.
Website   Twitter   Facebook   Instagram
Author bio and photo taken from Amazon