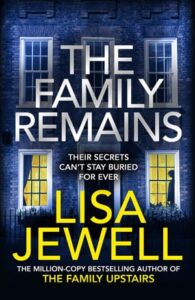 ShortBookandScribes #BookReview – The Family Remains by Lisa Jewell
The Family Remains by Lisa Jewell will be published on 21st July by Century in hardcover, eBook and audiobook. My thanks to Najma Finlay from Century for the proof copy of the book.
---

---
LONDON. Early morning, June 2019: on the foreshore of the river Thames, a bag of bones is discovered. Human bones.

DCI Samuel Owusu is called to the scene and quickly sends the bag for forensic examination. The bones are those of a young woman, killed by a blow to the head many years ago.

Also inside the bag is a trail of clues, in particular the seeds of a rare tree which lead DCI Owusu back to a mansion in Chelsea where, nearly thirty years previously, three people lay dead in a kitchen, and a baby waited upstairs for someone to pick her up.

The clues point forward too to a brother and sister in Chicago searching for the only person who can make sense of their pasts.

Four deaths. An unsolved mystery. A family whose secrets can't stay buried for ever …

PREPARE TO BE HOOKED.

IT'S LISA JEWELL'S NEW NOVEL . . .
---
---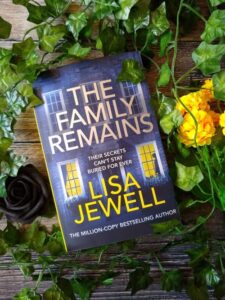 First off, I just want to say that this book is BRILLIANT! Buy it! If you haven't read The Family Upstairs first then you absolutely should but you can read The Family Remains as a standalone. What you need to know from the first book is recapped but I did go looking for some spoilers online as a reminder.
The book begins with a bag of bones being found on the banks of the Thames by a mud-larker. The bones lead DI Samuel Owusu to link it to the house in Chelsea where people died and a baby was found, alone upstairs. We follow a brother and sister as the past catches up with them, and a young woman who finds herself in a difficult relationship. I don't think I can say much more about the story because it unfolds so perfectly with only those bare bones as a synopsis that to go into more detail would be a shame.
I've always loved Lisa Jewell's books and I think The Family Remains is definitely one of my favourites. It's expertly plotted and brilliantly complex, with tangled family relationships being at the heart of the story, and yet that complexity doesn't mean it's hard to follow. I think because the writing and the story are so good I was just happy to let it lead me wherever it wanted to take me, and what an incredibly twisty journey that was.
This book is very much character-driven and they truly are fantastic creations, so absolutely compelling that I didn't want to take my eyes off the page. This is a domestic thriller from the queen of dark mystery that absolutely gripped me, with short chapters that kept up a fast pace and a fabulous story with a really clever ending that made me smile. I absolutely loved it.
---

---
LISA JEWELL was born in London in 1968.
Her first novel, Ralph's Party, was the best- selling debut novel of 1999. Since then she has written another eighteen novels, most recently a number of dark psychological thrillers, including The Girls, Then She Was Gone and The Family Upstairs (all of which were Richard & Judy Book Club picks).
Lisa is a New York Times and Sunday Times number one bestselling author who has been published worldwide in over twenty-five languages. She lives in north London with her husband, two teenage daughters and the best dog in the world.