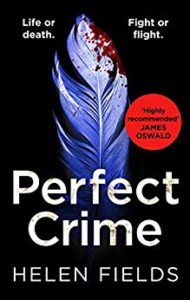 ShortBookandScribes #BookReview – Perfect Crime by Helen Fields @Helen_Fields @AvonBooksUK #BlogTour
Hooray! It's Good Friday and I'm reviewing Perfect Crime by Helen Fields today, the fifth instalment in the Callanach/Turner series and it's just as good as I expected and hoped it would be. My thanks to Sabah Khan from Avon Books for the place on the tour and the review copy of the book.
---

Your darkest moment is your most vulnerable…

Stephen Berry is about to jump off a bridge until a suicide prevention counsellor stops him. A week later, Stephen is dead. Found at the bottom of a cliff, DI Luc Callanach and DCI Ava Turner are drafted in to investigate whether he jumped or whether he was pushed…

As they dig deeper, more would-be suicides roll in: a woman found dead in a bath; a man violently electrocuted. But these are carefully curated deaths – nothing like the impulsive suicide attempts they've been made out to be.

Little do Callanach and Turner know how close their perpetrator is as, across Edinburgh, a violent and psychopathic killer gains more confidence with every life he takes…

An unstoppable crime thriller from the #1 bestseller. The perfect read for fans of Karin Slaughter and M. J. Arlidge.
---
I'm a huge fan of the Perfect series of crime books by Helen Fields and I think Perfect Crime is probably one of my favourites so far.
Once again we have two sets of crimes, one of which turns out to be a little bit closer to home for Callanach. The other one is the mysterious deaths of people who had previously been (or still are) suicidal.
I'm not going to give a lot of information about the plot as it would be a huge shame not to go into it with as little information as possible. What I will say though is that it's a plot that's perfectly executed, with both strands providing equal amounts of tension and twists, and brilliantly weaved together.
DCI Ava Turner and DI Luc Callanach are as wonderful as ever, especially the scrumptious Luc. I do have one complaint though and that there's not nearly enough of him in this book but I'll forgive the author as there's always next time (Perfect Dark in case you were wondering). I could get hold of these two characters and knock their heads together. There's so much sexual tension between them it practically leaps off the page. For God's sake, just get on with it you two!!!
We also have the return of the team at Police Scotland including DS Lively, Detective Superintendent Overbeck and newly promoted DS Tripp, but there are also a couple of new additions in DC Janet Monroe and DI Pax Graham, both of whom appeared in a previous book. One of the things I particularly enjoy about this series is the way the team work together, and the fact that each of them is an established character, not just people to fill in the background slots.
Perfect Crime is exciting and shocking in equal measures. Old foes return, new psychopaths are introduced, and there's a bit of personal stuff going on too. This is easily one of the best police procedural/crime series around. By book five it could easily be going off the boil but not here. If Perfect Crime is anything to go by, this series is going from strength to strength and I can't wait to see what Helen Fields is going to do to the characters next. I can guarantee it's going to be something dark and disturbing, that's for sure.
---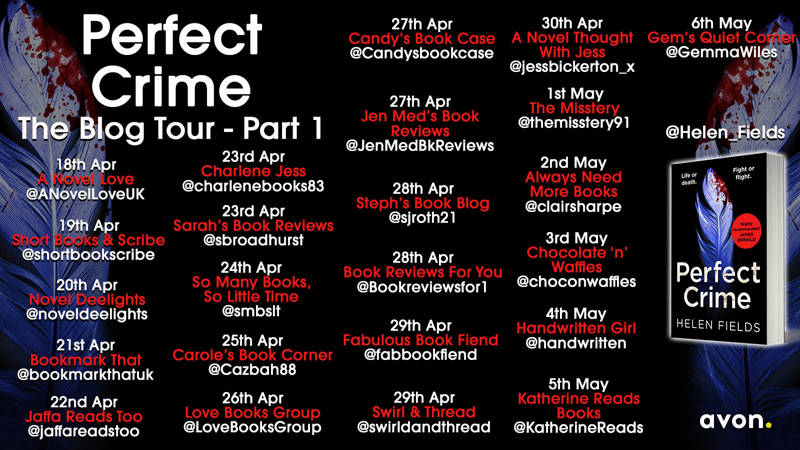 ---

Helen Fields studied law at the University of East Anglia, then went on to the Inns of Court School of Law in London. After completing her pupillage, she joined chambers in Middle Temple where she practised criminal and family law for thirteen years. After her second child was born, Helen left the Bar.
Together with her husband David, she runs a film production company, acting as script writer and producer. Perfect Remains is set in Scotland, where Helen feels most at one with the world. Helen and her husband now live in Los Angeles with their three children and two dogs.