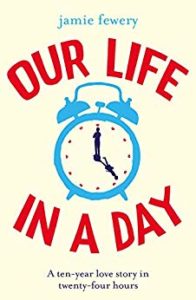 ShortBookandScribes #BookReview – Our Life in a Day by Jamie Fewery @jamiefewery @orionbooks @Tr4cyF3nt0n #BlogTour
I'm delighted to be opening the blog tour for Our Life in a Day by Jamie Fewery today and to be sharing my review of this lovely book. My thanks to Tracy Fenton of Compulsive Readers for the place on the tour and to Orion for the review copy via Netgalley.
---
The rules are simple: choose the most significant moments from your relationship – one for each hour in the day.

You'd probably pick when you first met, right?
And the instant you knew for sure it was love?
Maybe even the time you watched the sunrise after your first night together?

But what about the car journey on the holiday where everything started to go wrong? Or your first proper fight?

Or that time you lied about where you'd been?

It's a once in a lifetime chance to learn the truth.

But if you had to be completely honest with the one you love, would you still play?

For Esme and Tom, the game is about to begin. But once they start, there's no going back . . .

Following Esme and Tom's relationship over twenty-four individual hours of ups, downs and everything in between, Our Life in a Day is the most heartbreaking and moving love story you'll read in 2019 – perfect for fans of Josie Silver's One Day in December, Jojo Moyes, and Roxie Cooper's The Day We Met.
---

Our Life in a Day has an interesting premise. Tom Murray's girlfriend of ten years, Esme Simon, has come up with a game for him for their anniversary. This is not that unusual. This time the game is to pick the standout moments from their relationship for each hour of a day but from different years. So it might be 4-5am from 2007, 10-11pm from 2015 for instance. You get the idea, right? It forces Tom to look back and dissect their time together, particularly as this is not about picking all the best bits and forgetting the difficult ones, but a warts and all examination.
It's a beautiful read. Each chapter gives the month and year of a particular memory and the hour in the day it relates to. I loved the whole idea of this way of telling a story and I thought it was clever and pretty unique. Tom is a fantastic narrator, quite honest about his foibles even though he wasn't necessarily filtering that honesty through to Esme. Nobody's perfect, we all make mistakes, and none more so than Tom who seems to have a bit of a knack for doing the wrong things.
Our Life in a Day is a really moving and emotional read. I found it bittersweet in many ways, especially the ending which although quite real and true to life, wasn't quite what I was hoping for. It's a love story about the ups and downs of life, about trying to make the right decisions and sometimes not succeeding. I applaud the author for not always taking the easiest or most obvious routes for his characters.
It's hard to believe this is a debut novel. It's perfectly plotted and I loved both of the main characters. It made me smile and it made me sad – the perfect combination.
---

---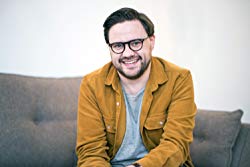 Jamie Fewery is an author, journalist and copywriter. He has written for the Daily Telegraph, Five Dials and Wired, and works for a London-based marketing and creative agency. He lives in Berkhamsted, Hertfordshire with his wife and son. Our Life in a Day is his first novel.
Author bio and photo taken from Amazon