ShortBookandScribes #BookReview – My Sister is Missing by Julia Barrett @Julia_Barrett_ @RedDoorBooks #BlogTour
Welcome to my stop on the blog tour for My Sister is Missing by Julia Barrett. I really enjoyed this book and will be reviewing it today. My thanks to Red Door Publishing for the place on the tour and for providing me with a review copy of the book.
---
I'm not the wife you think I am.

Just weeks after giving birth, new mum Stephanie Henderson and her baby girl disappear.

With husband Adam in despair, and the police investigation stalled, it's up to her sister Jess to find them. But when Adam starts to behave suspiciously, Jess starts to question what really happened.

Following news of a tragic accident, she suspects the worst and, in turmoil, goes in search of answers. But Jess isn t prepared for what she uncovers . . . or for what happens next.

This is a twisted psychological thriller that will make you question what is real, and whether you really can trust those you love.
Or support your high street with Hive
---

The blurb for My Sister is Missing describes it as a psychological thriller but, as with many of the books described in that way, I think it's actually more of a psychological or domestic drama.
Jess's sister, Steph, has just had a baby girl when, inexplicably and out of the blue, Steph and baby Natalie go missing. Jess races to be with Adam, Steph's husband, as they despair, consult the police and carry out their own investigations. Where is Steph? Why has she disappeared? Is Natalie ok? All questions that form a big part of the story.
There are demons in the sisters' past, ones which may or may not be affecting the present. However, the overarching theme of this novel is one of post-partum psychosis, an important and brave subject for the author to tackle. The consequences of this are far-reaching, for all involved and particularly for Adam, in ways that nobody could have imagined.
My Sister is Missing is full of suspense, full of drama. It's quite a slow burner of a story, one where I questioned what was real and what wasn't, whether what the characters were experiencing was truly what happened or not. I thought Julia Barrett did a good job at portraying the mind games that post-partum psychosis initiates and the doubts that form as part of that.
One nice surprise for me was that some of the action is set in Sheffield, my home city. I didn't know that was going to happen and so I was really pleased about it. The various settings are important throughout the book actually.
This is an interesting tale of family, sisterhood, post-partum psychosis and how the past can continue to affect you long after you think it's over and done with. I have to admit that I was a little disappointed with the ending which I thought might have gone with more of a bang but overall I thought it was an accomplished debut novel and I'd definitely read another book by Julia Barrett.
---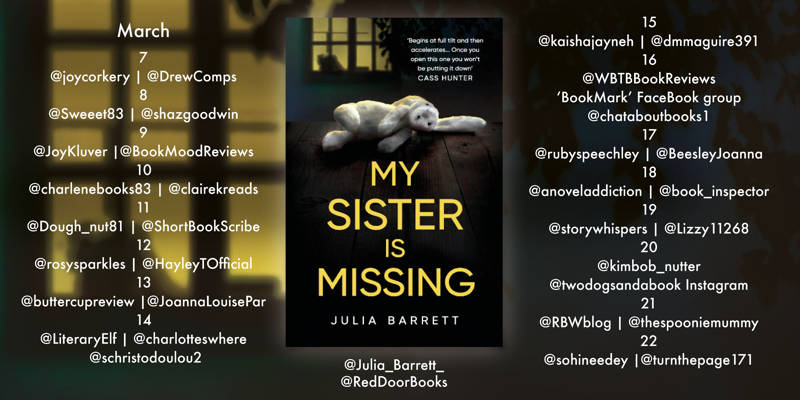 ---

Like all authors I love books and wanted to be a writer ever since I recorded my own Peter Rabbit tales at the age of four. But, it took until my late thirties to pluck up the courage to take my writing seriously and take time out from teaching.
I threw myself into writing everyday and my first novel was completed during the Faber Academy six-month Writing a Novel course.
That novel remains tucked away in a draw after several rejections. However one agent told me to focus on my main character, Stephanie Henderson. And that's exactly what I did. My Sister is Missing  tells her story.
Author bio from the author's website.