ShortBookandScribes #BookReview – Finders, Keepers by Sabine Durrant #BlogTour
It's my stop today on the blog tour for Finders, Keepers by Sabine Durrant which is a fantastic read. My thanks to Jenny Platt from Hodder for the copy of the book for review purposes and the place on the tour. It will be published in hardcover and ebook on 9th July.
---

---
Ailsa Tilson moves with her husband and children to Trinity Fields in search of the new.
New project – a house to renovate. New people – no links to the past. New friends – especially her next-door neighbour, the lonely Verity, who needs her help.

Verity has lived in Trinity Fields all her life. She's always resisted change. Her home and belongings are a shield, a defence to keep the outside world at bay. But something about the Tilsons piques her interest.

Just as her ivy creeps through the shared garden fence, so Verity will work her way into the Tilson family.

And once they realise how formidable she can be, it might well be too late.
---

---
What a thoroughly tangled story this is, so benign on the surface but with so much bubbling away beneath.
We have a fabulously unreliable narrator in Verity Ann Baxter (as she introduces herself to her new neighbours). Every single thing that happens is seen from her viewpoint and I honestly didn't know whether I could trust her or not. Ailsa and Tom Tilson are the new neighbours, along with their three children. From the off Verity both simmers and simpers under Ailsa's gaze, craving her friendship and yet there's a sense of independence from Verity that doesn't seem to match this desire for approval and appreciation.
I suppose you might call Verity a bit odd. It's hard to say if she's a nuisance or a help. She's gathering knowledge about the family, insinuating her way in, but of course it's her story and she doesn't see it like that. Verity is an amazing creation, the kind of character that stays with the reader, one I wanted to know better whilst all the while metaphorically backing away.
There's a major event around which the story revolves, but the whole thing is really about Verity's life, both past and present, before the Tilsons and with them. It is absolutely compelling reading with a slightly sinister undertone to it.
I've read Sabine Durrant's books before and know she excels at twisty stories and unreliable narrators. Finders, Keepers is a masterclass in clever plotting, keeping the reader on their toes and drip-feeding nuggets of information. I loved how each chapter started with an item (the reason for which becomes clear as the book progresses), and a word and its meaning (Verity works for the Oxford English Dictionary rewriting the existing entries). There is so much that is cunning and inventive about this book and Durrant is a fantastic writer. This book is exactly my idea of psychological fiction, where the mind and all its deepest, darkest corners, is the focus. It's such a great read.
---

---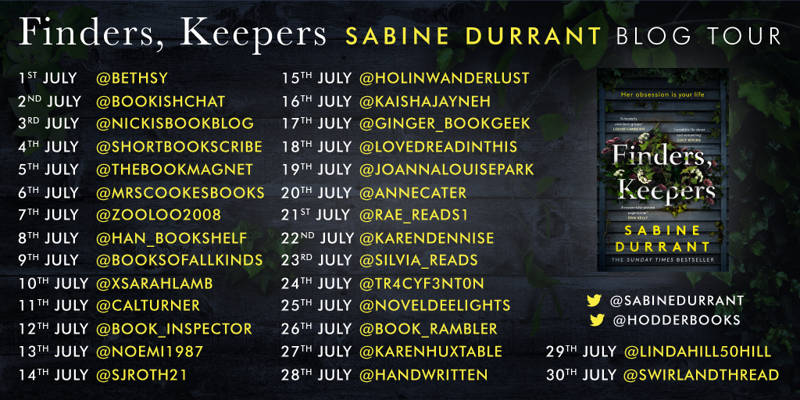 ---
---
Sabine Durrant is the author of three psychological thrillers, Under Your Skin, Remember Me This Way and Lie With Me, a Richard & Judy Bookclub selection and Sunday Times paperback bestseller. Her previous novels are Having It and Eating It and The Great Indoors, and two books for teenage girls, Cross Your Heart, Connie Pickles and Ooh La La! Connie Pickles. She is a former features editor of the Guardian and a former literary editor at the Sunday Times, and her writing has appeared in many national newspapers and magazines. She lives in south London with her partner and their three children.