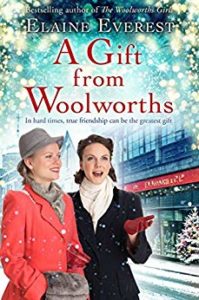 ShortBookandScribes #BlogTour #GuestPost by Elaine Everest, Author of A Gift from Woolworths @elaineeverest @fayerogersuk
I'm very pleased to be welcoming Elaine Everest back to Short Book and Scribes today. I'm so looking forward to reading the Woolworths books but know I want to start at the beginning and read them in order. In the meantime, Elaine is going to share her top ten favourite things about the Woolworths series with us today. My thanks to Faye Rogers for the place on the tour and to Elaine and Pan Macmillan for sending me a copy of the book.
Will the war be over by Christmas?

As the war moves into 1945 the lives of the women of Woolworths continue. When store manager, Betty Billington, announces she is expecting Douglas's baby her future life is about to change more than she expects.

Freda has fallen in love with the handsome Scottish engineer but will it end happily?

Maisie loves being a mother and also caring for her two nieces although she still has her own dreams. When her brother appears on the scene he brings unexpected danger to the family.

Meanwhile Sarah dreams of her husband's return and a cottage with roses around the door but Woolworths beckons.

Will our girls sail into times of peace, or will they experience more heartache and sorrow? With a wedding on the horizon, surely only happiness lies ahead – or does it?
---
Top Ten Favourite Things About The Woolworths Series by Elaine Everest
Thank you so much for hosting me on your blog today.
Wow! I'm scratching my head as I think of just ten fab things, as it has been such a wonderful experience to write the series – and continue to do so.
1. Top of my list would be the response from readers who have taken the books to their heart. Without them there would just have been The Woolworths Girls without a further four books.
2. To be able to bring Woolworths alive again and to share such fabulous memories with so many people has been a delight. The store has now been closed for ten years and we miss seeing it on our high streets so much.
3. Writing about the town where my stories are set has been wonderful. I was born in Erith and brought up in the area and to revisit it – even though I wasn't around in the forties has been an honour. Erith was very much the same in the 1960s before local councillors decided it would be a good idea to bulldoze it down and I do recall the town back then as a child.
4. I've heard from friends of my late parents and they've told me how I've rekindled memories of what it was like 'back then' and to have them say I got it right with my research has been heart warming.
5. The house where Sarah lived with her nan, Ruby, was the very house I purchased along with my husband back in 1972 when we married. I knew the street well by the time we moved away in the 1990s and still remember with clarity every nook and cranny. We rebuilt that house after a fire and four of my dogs are buried in the garden. In some respects I wish I'd never moved away and often think of buying it back…
6. To be able to write about Woolies at Christmas is most enjoyable. It is something we miss at this time of year. Do you remember the TV adverts? Woolworths made the best adverts with many celebrities of the time. They were the forerunners of the major TV promotions we now see each year on our TV sets.
7. Meeting ex Woolworths employers has been wonderful. When I give talks we chat endlessly about our working lives in this iconic store. I'm told about their managers who were like Betty Billington and how families worked together. We also laugh about funny things that have happened and share our memories.
8. I have such fond thoughts about my girls who worked at the Erith store. They may be fictitious but to me they are real people. I like to think I know how they would react in any situation whether in their working lives or at home. I hope to return to Woolies in the future to see what happens to the girls as we head towards the 1950s – and yes I already have the story planned.
9. The history of the town is real. I have slipped my stories of the girls in between what happened in Erith and the surrounding area during World War Two. I have spoken to children, who had no idea of what happened in their hometown during the war years. They may have been taught about the history of the country but not of their town. I like to think I've kept memories of the 'old Erith' alive.
10. So much of the history of F W Woolworths has come not only from my memories, and those of people who worked for the company, but also from the Woolworths online museum. Did you know they had a Museum? I've spent many happy hours looking back at this iconic store. Here is the link for you to while away a few hours and revisit your fond memories:
www.woolworthsmuseum.co.uk
Thank you so much for allowing me to reminisce about the fabulous Woolworths stores.
Elaine
xxx
And thank you, Elaine. Writing the series has obviously been just as wonderful an experience for you as reading it has been for your readers. I'm off to look at the Woolworths Museum site now.
---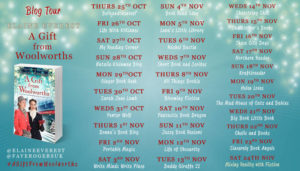 ---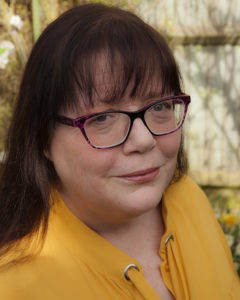 Elaine Everest, author of Bestselling novels The Woolworths Girls, The Butlins Girls, Christmas at Woolworths, and Wartime at Woolworths was born and brought up in North West Kent, where many of her books are set. She has been a freelance writer for twenty years and has written widely for women's magazines and national newspapers, with both short stories and features. Her non-fiction books for dog owners have been very popular and led to broadcasting on radio about our four legged friends. Elaine has been heard discussing many topics on radio from canine subjects to living with a husband under her feet when redundancy looms.
When she isn't writing, Elaine runs The Write Place creative writing school at The Howard Venue in Hextable, Kent and has a long list of published students.
Elaine lives with her husband, Michael, and their Polish Lowland Sheepdog, Henry, in Swanley, Kent and is a member of the Romantic Novelists' Association, The Crime Writers Association, The Society of Women Writers & Journalists and The Society of Authors.